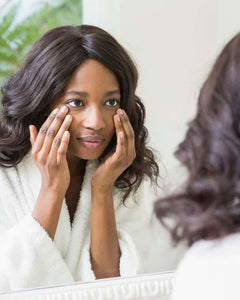 Dynamic Skin: What is it & How do I care for it?
How many of you have taken quizzes designed to help you determine your skin type only to realize that more than one answer applies to you?
While skin "type" is a familiar way of thinking about skin, it's ultimately somewhat limiting. Many of us have skin issues that travel across types and are a result of external factors such as environmental aggressors, stress and even those special times with Netflix and peanut M&M's.
We have a name for this at Nuria: Dynamic Skin.
We define dynamic skin as that challenging combination of hormones, stress, acne and atmospheric aging that affects women of all ages, races and environments around the world. We also understand that your skin and its needs can change from day-to-day, season-to-season.
That's why we've developed three distinct vegan and cruelty-free collections to address the needs of dynamic skin while ensuring your skin isn't exposed to harsh chemicals. Nuria Beauty is clean skincare that embraces age-old, natural wisdom from around the world and postmodern innovation to care for dynamic skin.
Our skincare collections are designed to mix and match so you can address the changing needs of your skin in regard to hormonal breakouts, stress and general environmental considerations, resulting in healthier-looking, brighter skin every day.
Skin & Hormones
The effects of hormonal activity can show on our faces in myriad ways, from acne, reduced moisture, diminished glow and aging skin. (How unfair is it to have blemishes and fine lines at the same time?)
The most common results of fluctuating hormones, however, are congested skin and breakouts. Combine hormones with environmental aggravators like UVA/UVB rays and free radicals and it can be confusing knowing which products to choose.
For hormonal skin issues we recommend starting with the products in our Rescue and Hydrate Collections. Inspired by women who live in lush, warm climates and struggle with oily skin and clogged pores, our Rescue Rebalancing Cleanser and Rescue Pore-Minimizing Toner help purify your skin and reduce the appearance of breakouts.
Those whose skin tends to be congested and prone to breakouts as a result of city air, stress and daily makeup use will benefit from incorporating these products into your cleansing ritual.
Star ingredients of the Rescue Collection include mandarin orange, rice water, tea tree oil, seaweed, loquat, rosehip oil, horsetail, chamomile and rosemary.
Hormonal and congested skin still needs hydration, so in addition to cleansing and toning, products from our Hydrate Collection, such as the Moisture Replenishing Serum and Revitalizing Jelly Night Treatment will keep your skin plump and glowing with ingredients like everlasting flower extract, squalane from pressed olives and sodium hyaluronate. While hormonal breakouts are common, it's best to see a dermatologist if you're unsure whether your breakouts are a result of hormones or something else.
Skin & Stress
What do you think of when you think of stress in regard to your skin? Those tests you stay up cramming for? A job interview? Moving? All of the above?
These are called internal skin stressors, which are triggered by emotional/mental states. Internal stress often sends cortisol production (otherwise known as the "stress hormone") into overdrive, which can result in breakouts. What's more, many of us reach for comforting things like chocolate, French Fries and/or alcohol to feel better, which can exacerbate the situation.
As if internal skin stressors aren't enough to contend with, there are also external skin stressors. These are environmental and include the sun's rays and free radicals, which are unstable molecules that can damage/age skin. Free radicals come from many sources, but the most common are air pollution and cigarette smoke.
The results of both internal and external stressors can be breakouts as well as premature lines, wrinkles, diminished luminosity and unwanted discoloration.
Inspired by women from Asia who understand that their skin is affected by stressors of every stripe, our Defend Collection features powerful products that lift away dullness, protect, and restore radiance. The collection includes the Gentle Exfoliator, the Skin Restoring Serum, the Triple Action Eye Cream and the Overnight Recovery Cream.
Notable ingredients of the Defend Collection include a variety of antioxidants, carrot seed oil, sodium hyaluronate, ginseng root, mulberry root, seaweed, brown algae, ginkgo, lactic acid and Rooibos red tea.
Skin & Hydration
There's still some confusion out there regarding the difference between "hydration" and "moisture," and with good reason; they don't really sound that different, do they? But, they are!
Both hydrators and moisturizers make sure the skin gets the water it needs to prevent dryness and dehydration, environmental damage and premature signs of aging. The difference, however, lies mostly in how they achieve this.
Hydration is all about the water content within the skin cells, which makes them plump and bouncy. As humorous as it might sound, plump skin cells are everything because they reflect light well, resulting in that coveted glow. If the cells aren't plumped up with water, they're dehydrated, resulting in dull and lackluster skin.
By using a hydrator, you pump your cells full of water, optimizing your skin's ability to retain moisture and absorb the nurturing ingredients in your skincare. In contrast, moisturizing is about trapping and sealing in moisture to strengthen skin's protective barrier, prevent water loss and keep the skin soft and smooth.
In terms of hydration, Hyaluronic Acid is queen. A substance found naturally in our bodies, it's responsible for the overall lubricity of pretty much everything. Ever notice how squishy and plump babies are? Hyaluronic acid!
Sodium hyaluronate, one of the star ingredients our Hydrate Collection, is the salt form of Hyaluronic acid, which is more stable and less likely to oxidize than Hyaluronic Acid. It also penetrates skin better because of its lower molecular size.
Inspired by European climates from warm and breezy to icy almost year-round, products from our Hydrate Collection are formulated to retain and replenish moisture before and after exposure to environmental elements such as heat, cold and dry air.
They defend your skin during the day and replenish overnight, preserving and restoring the supple bounce and youthful glow of your skin. Other clean, hydrating ingredients in the Hydrate Collection include Scandinavian bilberry, glycerin, aloe leaf juice, sage leaf oil, rose oil and mallow root.
Multi-faceted Solutions
Dynamic Skin is a common condition, not a skin type, and what it needs one day it may not need the next. Rest-assured, this is normal. Paying attention to your skin is the first step in knowing how to care for it and adjust your routine according to its varying needs.
Each of the Nuria Beauty skincare collections are designed to be mixed and matched so you can customize and fine-tune your skincare ritual for the charming, sparkling, one-of-a-kind you.
About the author, Naomi Furgiuele
Naomi is the founder of Nuria and a self-professed nerd with a love for all things science and skin care. She's had a hand in product development for some of the biggest global beauty brands in the business, gets some of her best ideas while out on a run, and loves her exfoliator almost as much as her awesome family.