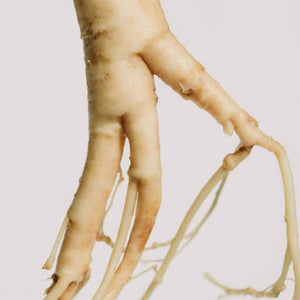 Ginseng
What is it?
Red ginseng (Panax ginseng) is a plant root traditionally used as an important herbal medicine in Far East Asia. Ginseng has been used for many overall well-being purposes, including strengthening the body and in restoring balance.
How does it help skin?
Ginseng has demonstrated ability to increase skin moisture levels and help fade uneven skin tone, as well as to enhance the skin barrier against photodamage. With its antioxidative and skin-soothing activity, ginseng can lead to more beautiful, younger-looking skin.
Did you know?
Ginseng's scientific name, Panax, comes from the Greek words "pan" meaning "all" and "akos" meaning "cure".
Why did we choose it?
Eliminating under eye dark circles is a challenge because they form for many reasons. Women in China understand that the key to treating the eye area is using a multi-action approach. Ginseng helps fight the signs of photo aging and keeps delicate under-eye skin moisturized.
Where is it used?
Check out these products that use Ginseng