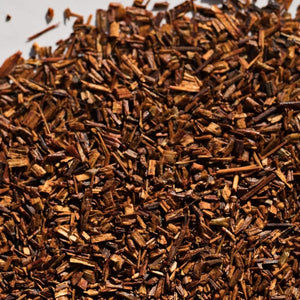 Rooibos Red Tea
What is it?
Rooibos Red Tea comes from the rooibos flowering shrub (Aspalathus linearis), which is native to the mountainous region of South Africa. This plant makes a mild-tasting tea and has significant amounts of polyphenol antioxidants, including flavonoids and phenolic acids.
How does it help skin?
Rooibos Red Tea contains powerful antioxidants that fight free radicals that can damage and visibly age the skin. Red tea is known for its mineral rich qualities, contributing to more youthful looking skin.
Did you know?
Rooibos means red bush in Afrikaans. This red tea has no caffeine unlike its counterparts, green and black tea!
Why did we choose it?
A beautiful compliment to the other select ingredients, rooibos red tea boosts the free-radical fighting power but also brings essential minerals to our potent Nuria Defend Skin Restoring Serum. Used as a tea, this herb is used in South Africa for its health benefits inside and out.
Where is it used?
Check out these products that use Rooibos Red Tea