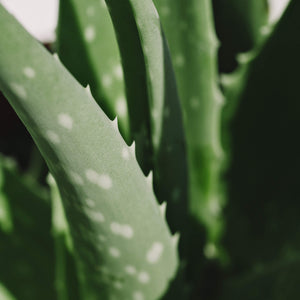 Aloe Leaf
What is it?
Aloe is a medicinal plant with a history of use dating back to ancient Egypt. It may be most well known for its effects on easing sun burn. Aloe is also often used as a ornamental plant in the garden.
How does it help skin?
Aloe is reported to contain over 75 different potentially bioactive compounds, including vitamins, minerals, enzymes, simple and complex polysaccharides, phenolic compounds, and organic acids. Aloe is the ultimate anti-aging plant because it helps renew skin exposed to external photodamage and revitalizes skin barrier.
Did you know?
Aloe was used in Japan to treat those with severe burns and wounds from the radiation of the atomic bomb during World War II.
Why did we choose it?
Containing bioactive compounds, aloe leaf is beneficial for all skin types and helps solve many skin problems. Gentle yet powerful, aloe effectively replaces many other skin care additives. Native to southern Africa, aloe now grows along the Mediterranean and is frequently used to ease burns, moisturize skin, and protect the skin from further damage.
Where is it used?
Check out these products that use Aloe Leaf