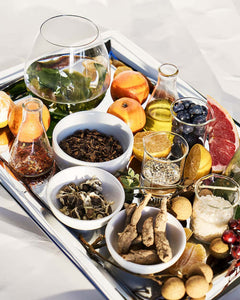 What Are Adaptogens & How They Can Help Skin
Coined by Russian pharmacologist Nikolay Lazarev in the 1940s¹, adaptogen is a term for substances that increase the "state of non-specific resistance" in stress. Little did he know that adaptogens would become a hot ingredient in the world of wellness, casually added to morning smoothies by the likes of Gwyneth Paltrow.
In reality, adaptogenic herbs are well-known in Chinese and Ayurvedic medicine, and their recent buzz is a perfect example of "what's old is new again." As is often the case, that which becomes the popular "miracle" thing to ingest soon finds its way into skincare (açai berries, kale, tomato and broccoli—yes, broccoli—are superfoods now regarded as relatively mainstream ingredients), so it follows that adaptogens are now emerging as the new skincare darling.
Let's take a look at what they are and how they can benefit your skin.
What are Adaptogens?
Long story short, adaptogens are herbs and extracts meant to help your body adapt to stress by supporting adrenal function. In other words, they may essentially help regulate your natural defenses against stress, thus restoring balance, though currently there isn't a robust body of research on human subjects that directly supports these claims.
In skincare, adaptogens are touted to help kill bacteria, provide antioxidant protection, hydrate, and help reduce appearance of redness and calm troubled skin, which ultimately delivers a clearer, brighter complexion. Popular adaptogens in skincare include rhodiola, ashwagandha (Indian ginseng), reishi and chaga mushrooms, goji berry and time-tested familiars like rosemary and aloe vera, amongst others.
Not surprisingly, many adaptogens are also antioxidants, which means that when applied topically, they help defend your skin against skin-aging free radicals. While the antioxidant properties of many adaptogens is probably the most compelling reason to incorporate them into your skincare, the soothing & calming benefits found in adaptogens like mushrooms are also universally appealing.
Should You Add Adaptogens to Your Skincare Routine?
Adaptogens are particularly promising for what we at Nuria call transition skin; that is, skin affected by the challenging combination of hormones, stress, acne and the effects of environmental aging. "But isn't that pretty much everybody's skin these days?" you may ask. Well, yes and no.
Not everybody has acne, and not everybody is totally stressed out, but there's a good chance you can check off at least two of the above listed conditions when it comes to your skin, so using products that contain adaptogens may give your skin an extra boost.
Nuria Adaptogen-Rich Skincare, by Need
Many of our adaptogenic skincare ingredients have been used by women all over the world for centuries, and we purposely incorporate a global yet region-specific approach to these ingredients as we formulate our products.
Below are some of our clean, green, and vegan adaptogenic superstars that serve a variety of skin needs.
To Combat Dullness, Protect Your Skin and Get Glowing:  The Defend Collection. Adaptogens include ginseng, found in Defend Skin Shielding Essence and Defend Triple Protection Eye Cream; aloe leaf juice, found in Defend Overnight Recovery Cream; and Rooibos red tea, found in Defend Skin Restoring Serum.
To Hydrate, Nourish and Reveal Your Skin's Natural Radiance: The Hydrate Collection. Adaptogens include aloe leaf juice, found in Hydrate Refreshing Micellar Water and Hydrate Moisturizing Toner; rosemary, found in Hydrate Revitalizing Jelly Night Treatment; and
To Purify Your Skin and Reduce the Appearance of Breakouts: The Rescue Collection. Adaptogens include rosehip oil, found in Rescue Rebalancing Cleanser, and rosemary, found in Rescue Pore-Minimizing Toner.
So, are you ready to get your adaptogens on?
¹National Center for Biotechnology Information, U.S. National Library of Medicine. 2018 Nov 16.
About the author, Jasmin Figueroa
Jasmin is an accomplished formulation scientist and skin health expert who has spent her career listening to consumers and developing products that rock. A founding member of the Nuria community, she loves traveling with her family, chilling with her friends at the beach, and will totally judge you if you don't wear SPF.