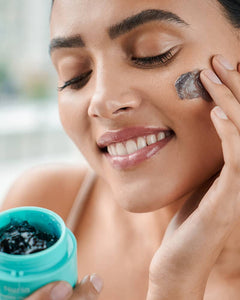 Want Skin that Glows? Hydration is the Answer
Hydration vs. Moisture
There's still some confusion out there regarding the difference between "hydration" and "moisture," and with good reason; they don't really sound that different, do they? But, they are!
Both hydrators and moisturizers make sure the skin gets the water it needs to prevent dryness and dehydration, environmental damage and premature signs of aging. The difference, however, lies mostly in how they achieve this.
Hydration is all about the water content within the skin cells, which makes them plump and bouncy. As humorous as it might sound, plump skin cells are everything because they reflect light well, resulting in that coveted glow. If the cells aren't plumped up with water, they're dehydrated, resulting in dull and lackluster skin.
By using a hydrator, you pump your cells full of water, optimizing your skin's ability to retain moisture and absorb the nurturing ingredients in your skincare. In contrast, moisturizing is about trapping and sealing in moisture to strengthen skin's protective barrier, prevent water loss and keep the skin soft and smooth.
Ingredients that Hydrate
In terms of hydration, Hyaluronic Acid is queen. A substance found naturally in our bodies, it's responsible for the overall lubricity of pretty much everything. Ever notice how squishy and plump babies are?
Hyaluronic acid! Sodium hyaluronate, one of the star ingredients our Hydrate Collection, is the salt form of Hyaluronic acid, which is more stable and less likely to oxidize than Hyaluronic Acid. It also penetrates skin better because of its lower molecular size.
Inspired by European climates from warm and breezy to icy almost year-round, products from our Hydrate Collection are formulated to retain and replenish moisture before and after exposure to environmental elements such as heat, cold and dry air. They defend your skin during the day and replenish overnight, preserving and restoring the supple bounce and youthful glow of your skin.
Other clean, hydrating ingredients in the Hydrate Collection include Scandinavian bilberry, glycerin, aloe leaf juice, sage leaf oil, rose oil and mallow root.
About the author, Jasmin Figueroa
Jasmin is an accomplished formulation scientist and skin health expert who has spent her career listening to consumers and developing products that rock. A founding member of the Nuria community, she loves traveling with her family, chilling with her friends at the beach, and will totally judge you if you don't wear SPF.