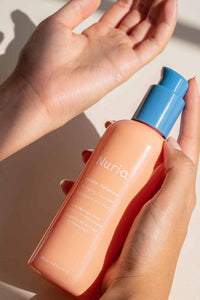 The Latest Japanese Cleansing Ritual
Have you tried the latest Japanese cleansing ritual, the 4-2-4 method?
It's a cleansing ritual that uses massage to improve circulation, which then helps flush out the toxins, allowing skin to look healthy, plump, and glowing. ⁠
How does it work?
The cleansing ritual involves three main steps: an oil cleanse, a water cleanse, and water rinsing at two different temperatures.
First you massage your face with a cleansing oil for 4 minutes. Cleansing oils work by dissolving dirt, oil, and makeup your face as part of the first step in a traditional double cleanse.
By massaging the oil for four minutes. you are not only bringing blood flow to the surface, but also you are softening the top layer of skin tissue and helping to remove dirt and oil that can clog pores.
Then you follow with 2 minutes of massaging with a water-based cleanser like our Defend Purifying Cleanser, which transforms into a layer of impurity-lifting bubbles to remove damaging free-radicals and return supple, glowing skin without over drying.
Formulated with Tropical Moringa, which is rich in Vitamin C and other nutrients, the rich, smooth lather cleanses your skin while maintaining its moisture. You can see and feel the soft, foamy bubbles as you massage the product on your skin.
Finally, you finish with 4 minutes of rinsing but at two different temperatures: 2 minutes of rinsing with warm water and then 2 minutes of rinsing with cold water.
After patting your skin dry, you follow the rest of your usual skincare routine (serums, moisturizers, etc).
When to use this method?
The 4-2-4 cleansing method is best done as an evening routine, when you might have more time, or anytime your skin needs a deep detox.
Although it takes a full 10 minutes to complete, it is a great way to help you feel both refreshed and relaxed after a long day.
About the author, Naomi Furgiuele
Naomi is the founder of Nuria and a self-professed nerd with a love for all things science and skin care. She's had a hand in product development for some of the biggest global beauty brands in the business, gets some of her best ideas while out on a run, and loves her exfoliator almost as much as her awesome family.