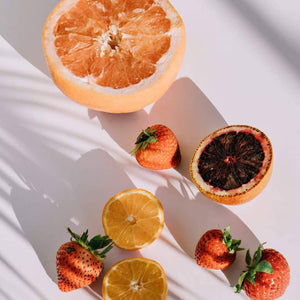 Vitamin C
What is it?
Vitamin C, also called ascorbic acid, is a molecule that is naturally found in food. Vitamin C is required for important processes throughout the body.
How does it help skin?
With its critical role in skin renewal, Vitamin C is important in maintaining the building block of the skin and promoting elasticity for vibrant, glowing skin. Vitamin C is also a powerful antioxidant that works synergistically with other antioxidants in the body, like Vitamin E.
Did you know?
Oranges are a great source of Vitamin C, as well as strawberries, mango, and papaya.
Why did we choose it?
Maintaining elasticity around the eyes helps prevent under eye bags and the look of tired eyes. Vitamin C Is an important part of our Nuria Defend Triple Action Eye Cream to help your eyes look bright and vibrant!
Where is it used?
Check out these products that use Vitamin C