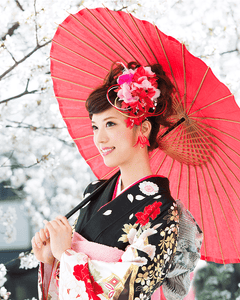 Get Inspired by the Beauty Wisdom of Japan
You've heard of the K-beauty, but are you familiar with J-Beauty? J-Beauty refers to the beauty wisdom and philosophy behind Japanese beauty rituals and products, which are steeped in history and tradition.
The History of J-Beauty
Japanese Beauty emphasizes simple rituals and regimens. Many of Japan's traditional beauty methods were inspired by Geishas, the country's original beauty icons. Striving for flawless skin, Geishas developed specific beauty rituals that continue to this day. These rituals include a thoughtful skin care regimen and a diet designed to enhance skin health. Geishas believed that well-cared-for skin was the foundation of beauty, a concept that continues to be at the heart of the Japanese Beauty today.
What's Behind the Beauty Wisdom of Japan?
The ultimate goal of Japanese Beauty is "mochi-hada," which means your skin is so soft it resembles a mochi ice cream dessert. Whereas most Americans tend to be aggressive when cleansing and exfoliating their skin, the Japanese approach is more nourishing. They emphasize gentle cleaning, sun protection, and hydration. A lot of hydration.
In fact, the focus on hydration is one way in which J-beauty and K-Beauty philosophies are similar. Both cultures emphasize moisture as a foundation for glowing skin. They also focus on long term health over short fixes, which is why avoiding sun exposure and using sunscreen are important parts of both philosophies.
How is J-beauty Different from K-Beauty?
While skincare is deeply rooted in all Asian cultures, each country has a unique approach based on the rituals and ingredients of each rich culture. We've noted the ways in which J-Beauty and K-Beauty have shared approaches. Here are some ways in which they differ.
Style. Whereas K-Beauty is known for being playful, colorful, and fun, J-Beauty is seen as being more low-key, quiet, and luxurious.
Ingredients. J-Beauty ingredients tend to be more time-tested, and J-Beauty is less likely to use a trendy ingredient.
Routine. K-beauty is famous for having many steps in its skincare routine, often 10 or more. By comparison, J-beauty is minimalistic with a focus on simple rituals.
What is a Typical J-Beauty Routine?
The Japanese take a more minimalist approach to their skincare routines. The most common Japanese skincare routine involves double cleansing, using a skin softener (what the Japanese calla lotion), a serum, and a moisturizer, plus sunscreen.
Double Cleansing: The Japanese skincare approach calls for spending as much time cleaning your face at night as you spend applying your makeup. (See more about the 4-2-4 cleansing method to learn how to cleanse your skin the Japanese way.)

The first cleanse is to remove make-up and impurities. This is especially important for the delicate eye area. Nuria's Micellar Water is a great option for this step. Oil cleansers are another popular choice for removing oil-based impurities.
For the second cleanse, foaming cleansers are common because they are soft, and easy to spread around. Try our Defend Purifying Cleanser, which generates impurity lifting bubble to gently cleans your skin without stripping.

Lotions aka Softeners: The closest equivalent to a softener is a moisturizing toner, such as our Hydrate Moisturizing Toner. Japanese softeners are watery and applied after cleansing. They're not astringent nor are they meant to wipe away any remaining dirt that your cleansing step missed (that's why you double cleanse). Skin softeners are patted onto the skin to soften, hydrated prep the skin for the steps that following.
Serums: The Japanese word for serums roughly translates to "beauty liquid, " and they are designed to address specific skin conditions like wrinkles, dark spots, or dullness. Beauty liquids are typically thicker and more concentrated, a philosophy that Nuria supports. In J-Beauty, applying multiple layers of hydration is preferred to a single, more potent layer in your routine.
Moisturizers: oils or creams to seal in your hydrating layers.
Sunscreens: Japanese women wear sunscreen every single day of the year, no matter the weather (rain or shine) or their location (beach or office).
Beyond Your Skincare Routine
Beauty and health are embedded in Japanese culture, and these principles underscore the holistic approach Japanese women take when caring for their skin.
Consistent, daily care is the basis of Japanese beauty. For centuries, skincare rituals have been passed down and repeated from generation to generation. That's why ⁠Japanese women understand that following a consistent daily skincare regimen using high-quality ingredients is the first step in achieving beautiful, radiant skin.⁠ ⁠
High-quality ingredients such as seaweed and green tea⁠. Japanese skincare rituals have always focused on simply but effective ingredients that have been very carefully tested for a long time. That's why we infused these high-quality ingredients using beauty wisdom from Japan into our Defend Overnight Recovery Cream. ⁠⁠
Maintaining a balanced diet. We often forget that what we put inside our bodies is directly connected to our outer glow but beauty and health have long been intertwined in Japanese skincare routines. ⁠That's why a traditional Japanese meal follows the "ichijyu sansai" principle, which consists of one soup with three vegetable dishes plus rice and fish, to ensure good balance!⁠
Ready to Adopt a J-Beauty Routine?
There is a lot to learn from the Beauty Wisdom of Japan. Whether you adopt a J-beauty routine or not depends on your skin goals and your lifestyle. It's no secret that Japanese women know how to keep a healthy, youthful complexion.
Their ingredients and beauty rituals have been part of Japan's culture for centuries, proving the adage that newer is not always better when it comes to achieving healthy and glowing skin.
About the author, Naomi Furgiuele
Naomi is the founder of Nuria and a self-professed nerd with a love for all things science and skin care. She's had a hand in product development for some of the biggest global beauty brands in the business, gets some of her best ideas while out on a run, and loves her exfoliator almost as much as her awesome family.