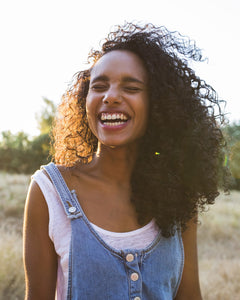 How to Stay Radiant & Glowing All Summer Long
The summer sun and heat in many parts of the country can create skin challenges, that's why it is so important to take the time to care for your skin while enjoying the season.
Here are some tips to help you get glowing for summer!
Limit your sun time. The sun's rays are most intense between 10am and 2pm. During that time, stay cool in the shade by sitting under an umbrella or a shade tree to enjoy the outdoors without risking additional UV exposure.
Stay hydrated. Even if you're being careful not to spend too much time directly in the sun, spending more time outdoors can lead to drier skin. Beyond drinking lots of water, keep skin hydrated by regularly using products like moisturizing toners, cleansers, & moisturizers.
Use sunscreen & don't forget to reapply. We are big believers that everyone (all skin tones!) should wear sunscreen every day to protect their skin from harmful UV rays.
We recommend using a broad spectrum SPF 30 sunscreen and reapplying at least every 2 hours when you are outside (more often if you are swimming or sweating). Your skin will thank you for it later! Our Matte Finish Daily Moisturizer with All-Mineral SPF 30 is perfect under makeup or for a day at the pool, delivering the sun protection you need and the hydration your skin craves, plus it is as safe for your skin as it is for the environment.
Keep breakouts at bay. After a day in the sun, you'll want to clean your skin to remove the dirt and sweat and don't end up with clogged pores or breakouts. Natural ingredients like Tea Tree Oil can help to purify your skin and promote a healthy skin microbiome. Our Rescue Pore-Minimizing Toner features Tea Tree Oil to help reduce the appearance of imperfections, like whiteheads, blackheads, and blemishes, revealing your natural glow.
Cool showers. After a hot day in the sun or a really intense workout, a cool shower can feel refreshing and invigorating. While hot showers can dry out your skin (especially long ones), cool showers can help tighten skin, improve circulation, and soothe skin conditions like acne or sunburn. Cool showers can also seal in moisture!
Repair the damage. Keep your skin hydrated and use products with antioxidants to help fight against and prevent the effects of free radicals and keep your skin barrier healthy, the Nuria Defend Collection includes products rich with antioxidants to keep that summer glow!
Exfoliate. Exfoliating your skin once or twice a week is a helpful addition to your routine for clearing away dirt and oil that can clog pores. It can also give you an instant glow by removing the dead skin cells that can make your skin look dull.
Eat a diet rich in antioxidants. Foods such as cantaloupe, watermelon, berries, citrus fruits, soy products, and carrots can help increase your blood antioxidant levels to fight oxidative stress and sun damage.
So there you have it! Some easy ways to keep your skin healthy and happy-glow-lucky. Happy Summer everyone!
About the author, Naomi Furgiuele
Naomi is the founder of Nuria and a self-professed nerd with a love for all things science and skin care. She's had a hand in product development for some of the biggest global beauty brands in the business, gets some of her best ideas while out on a run, and loves her exfoliator almost as much as her awesome family.