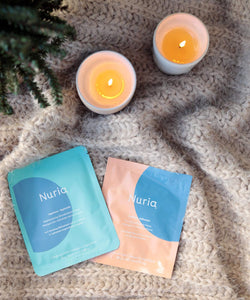 Holiday Gift Guide for 2023
Tired of struggling to find that perfect gift for everyone on your list? Without breaking the bank? Nuria is here to make the holidays as easy as possible, with our 2023 guide to affordable skincare gifts that are great for all skin needs. And best of all, every purchase funds education for girls and women around the world, so your gift makes a real difference. These gifts won't collect dust or be (*gasp*) regifted, we promise!
For the friend who posts everything...
Try gifting our Defend Gentle Exfoliator, a kinda-crazy but oh-so-satisfying experience as you watch the dead skin roll off your face leaving behind a smooth glow! Long after her TikTok goes viral, her skin is going to look and feel amazing. And best of all, at $18, you're gifting premium level skin care filled with potent naturals like ginkgo & lactic acid at an affordable price.
For the friend who is oh-so picky...
Yeah, we have one of those friends, too! We love them, but we hate shopping for them. Our Try-It-Before-You-Buy-It Kit is the perfect solution - five premium minis packaged in an adorable Nuria travel bag, with a code included for a FREE full-size product of her choice, once she has had the chance to try everything and pick a favorite. Takes the pressure off of you to pick the perfect gift!
Teachers, babysitters, mother-in-laws, oh my!
Self-care is the way to go when shopping for those gift list stragglers! Everyone can use some me time, and our masks fit the bill. Try a set of 5 masks with our Hydrate Replenishing Biocellulose Sheet Mask Set ($30 value for $18) or our Defend Purifying Bubble Sheet Mask Set ($30 value for $23). Sold in more than 90 spas, salons, & boutiques across the US, these masks are best sellers for any age. 
For absolutely anyone on your list… seriously
Outdoor enthusiast? Makeup lover? Skincare novice? Wrinkle hater? Everyone should be using an SPF all year long, and we've got one that works on all skin types, shades, and environments! Sheer on all skin tones, safe for the environment, safe for sensitive skin, fragrance-free and full of potent naturals designed to reverse sun damage, our Defend Matte Finish Daily Moisturizer with All Mineral SPF 30 is the perfect base for any healthy skin routine.
Happy gifting!
About the author, Naomi Furgiuele
Naomi is the founder of Nuria and a self-professed nerd with a love for all things science and skin care. She's had a hand in product development for some of the biggest global beauty brands in the business, gets some of her best ideas while out on a run, and loves her exfoliator almost as much as her awesome family.