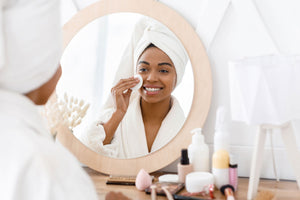 Creating a Personal Skin Care Ritual
Our skin care routine is a personal ritual. It goes far beyond the satisfying spoil of pampering ourselves, (which hey, is fun too!), and is more about crafting a long-term journey toward maintaining our skin health. Like all dynamic journeys, the experience must be an individual one! Since the needs of our skin are unique, we must customize each step in our regimen—not only according to how our skin looks and feels but also based on the effects of our environment and lifestyle. Ready to learn? Let's explore how to create your own skin care routine.
Layering your skin care steps
Like a recipe, the steps of a skin care routine should follow a logical order. Even though the products you choose are individualized, the way you layer them must be done in sequence to achieve the best possible results.
We must respect that each product has its own physical properties in terms of acidity, thickness, and concentration of nutrients; and for this reason, the order of how you layer them matters. The order generally follows a pattern of application, going from lightest to heaviest. Thinner fluids typically have tinier molecules, making them easier and faster to absorb into the upper layers of your skin, while thicker formulas can deliver active ingredients over longer periods of time and can form a protective barrier on the surface layers of your skin.
Now that you understand the logic behind the steps in a skincare routine, you can learn how to apply them.
1. Double cleansing: Makeup remover & face wash
If you wear makeup or are exposed to environmental aggressors like dust, pollution, and other environmental toxins, washing your face should really be a two-round ritual.
While this advice may sound high-maintenance, you might be surprised to learn why it's not. Even after the first round of cleansing, you can't imagine how much leftover grime, oil, and makeup stays on your face! "It's important to use a gentle makeup removing wipe, micellar water, or oil-based makeup remover before you wash," suggests dermatologist Rachel Nazarian, M.D. This way, you can guarantee a clean face, preventing any leftover residual makeup, particulates, or bacteria that you might miss by using a cleanser alone.
If you're using an acne-focused cleanser with actives like salicylic acid, you may find that it's too harsh and drying to use twice a day. For dry or reactive skin, consider using a gentle cleanser by day, like the Calm Cleansing Milk, and save the more potent formula for night, such as the Defend Purifying Cleanser.
2. Balance & refine: Toner
When we get too caught up in the fancy, high-tech treatments and trends, we neglect a sacred skin priority: a pH balanced face that is ready to absorb those concentrated treatments. That's where a toner comes in.
Our skin must maintain a pH of around 5.5 (slightly acidic) to function properly as an organ. Under these conditions, the skin can maintain its protective barrier, a combination of natural oils and healthy microbes, which keeps your skin strong, bright, and acne-free. By applying a toner, you're protecting this dermal environment, which helps to purify and tighten your pores for a smoother complexion, and you are prepping your skin to absorb the next step in your skincare ritual.
The soothing powers of Witch-Hazel and Horsetail, along with the clarifying properties of Tea Tree Oil and Rosemary, make the perfect potion to purify your pores. The Rescue Pore-Minimizing Toner contains all these healing botanicals for a vibrant, refreshed glow.
3. Brighten & tighten: Serum
A face serum is a vitamin-dense fluid that targets the deeper skin layers. Unlike a cream or moisturizer which acts as a superficial skin treatment, forming a protective and hydrating later on the skin, a serum has a higher concentration of potent actives for a stronger level of absorption and skin benefit.
Serums can be used daily for all different purposes: boost circulation, soothe eczema, fade dark spots, improve hydration—the possibilities are endless! That's the beauty of serum. Since it's formulated to offer more personalization, it's a vital part of creating a skincare routine.
Dermatologist Dr. Marnie Nussbaum recommends a skin serum with Vitamin C as the go-to antioxidant ingredient. "It works very well in combination with Vitamin E to protect against free radical damage which can cause skin cancers and collagen breakdown leading to fine lines," she explains. The Defend Skin Restoring Serum is loaded with Vitamin C to restore your glow and fight dullness caused by environmental toxins, stress, and lack of sleep.
4. Hydrate & protect: Moisturizer or cream
We often think of a moisturizer or cream as a way to keep skin soft and dewy. But that's just a side perk! The real reason is a matter of protection—mainly against the aging effects of our environment.
Every day, our skin is exposed to a warzone of airborne nasties, including factory toxins, landfill pollutants, dust, and mold. Moisturizer creates a barrier between these external invaders and our pores, while also infusing our skin with water and vitamins.
Although a natural formula is important, a good moisturizer or cream also needs synthetic emollients to carry the active ingredients. Glycerin, for example, acts as an emollient to boost skin hydration, relieve dryness, and defend your pores for up to 24 hours, according to a study published in the Clinical, Cosmetic and Investigational Dermatology journal. The Calm Daily Moisturizer combines glycerin and a bunch of organic antioxidants from Cottongrass, Sunflower, and Blue Daisy for a richly hydrated complexion.
5. And finally...Treatment time: Mask
There's a reason "spa day" isn't a daily spoil (normally anyways). Mask treatments are meant to be used occasionally, anywhere from 2-3 times a week, to treat your skin to a richer dose of revitalizing nutrients.
Each type of mask has its own purpose, be it for hydrating, brightening, or tightening. Choosing the right one is part of how you create your skincare routine. "For concerns like skin hydration, gentle hydrating masks can be used on a regular basis," says Dr. Zeichner, Director of Cosmetic & Clinical Research at Mt. Sinai Hospital. Hydrating masks are friendly on sensitive skin types because they're concentrated with water, making them less likely to irritate.
To treat oily skin, go for a mattifying or acne prone mask. Dr. Zeichner suggests reaching for a clarifying option that contains ingredients like charcoal or clay, which help absorb oil and soothe the skin. The Bubble Sheet Mask Set offers oil-absorbing qualities, using Green Tea to fight external stressors and Apple Juice Amino Acids to exfoliate skin for a silky-soft feel.
Ultimately, the best skincare routine is the one you will follow every day to see amazing skin benefits. So make sure you enjoy your self-care moments with a skincare ritual that works for you!
About the author, Naomi Furgiuele
Naomi is the founder of Nuria and a self-professed nerd with a love for all things science and skin care. She's had a hand in product development for some of the biggest global beauty brands in the business, gets some of her best ideas while out on a run, and loves her exfoliator almost as much as her awesome family.