Stress can do a number on your skin, but this routine will help you recover your glow whether your skin is reacting to city living or some extra sun, or reflecting a lack of sleep or life drama. These small but mighty radiance boosters are just what you need to relax, refresh, and restore your skin!
Includes:
Gentle Exfoliator: 20ml / 0.7 fl oz liq US
Skin Shielding Essence: 15 mL / 0.5 fl oz liq US
Skin Restoring Serum: 10 mL / 0.3 fl oz liq US
Triple Action Eye Cream: 5 mL / 0.2 fl oz liq US
Purifying Bubble Mask: 1 mask
Nuria Cosmetics Bag: 6W x 2D in
$60 value!
As featured in Parade
Meet the Routine
Step 1: Apply the Gentle Exfoliator to clean wet skin and start to feel the magic everyone is raving about. It purifies, exfoliates, and smooths rough skin texture without harming your skin barrier. All without microbeads!
Step 2: Place the Purifying Bubble Mask on your face and leave on for 5 - 10 minutes. This bubbly, refreshing mask purifies and leaves you with lasting protection from the elements, transforming rough skin into a brighter, healthier, more awakened complexion. Gently remove the mask and rinse with water.
Step 3: Strengthen your skin's natural defenses with the Skin Shielding Essence, featuring plant-based extracts like Ginseng & Carob!
Step 4: Apply the Skin Restoring Serum to boost the healthy, youthful look of your skin. Nuria's serum philosophy is for "less-is-more" formulas with only the essential ingredients. That's why you need only 1-2 drops to get the full benefit of our serums. Let it absorb completely before moving to the next step.
Step 5: Apply the Triple Action Eye Cream to your delicate eye area. Made with Mulberry Root & Ginseng, it brightens dark circles & reduces the look of puffiness + fine lines.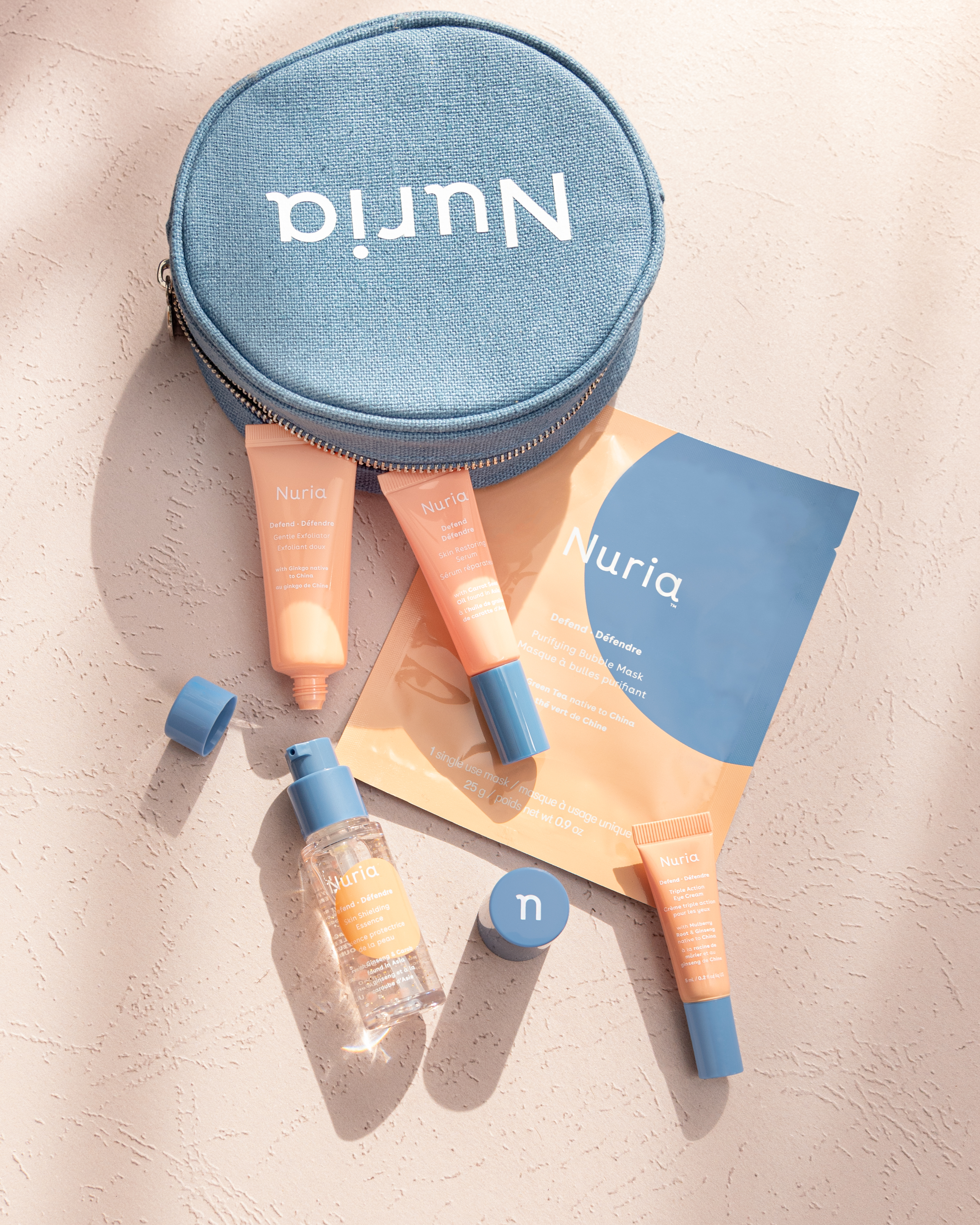 Create Your Routine
Make this Stressed Skin Survival Set a great step in your skincare routine