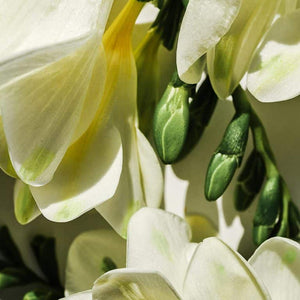 Spring Snowflake
What is it?
Spring Snowflake is a perennial flower that typically emerges in springtime. The plant is native to most of Europe and has large, white bulbs, which make it popular for ornamental reasons.
How does it help skin?
Spring Snowflake has been shown to demonstrate multiple benefits for the skin. It helps smooth skin by reducing and preventing the appearance of fine lines and wrinkles. Much like when the flower goes dormant, the bulb extract works while you're sleeping to have you wake up feeling relaxed and rejuvenated. Spring snowflake also protects the skin from free radicals with its antioxidant properties.
Did you know?
Leucojum aestivum is commonly called Summer Snowflake, although it flowers in the spring and goes dormant in the summer. You can purchase snowflake flowers that smell like chocolate. Yes, please!
Why did we choose it?
We know your skin works extra hard at night to recover and repair itself, we added Spring Snowflake to make that whole process a little easier for you. Just as these delicate, white flowers announce the emergence of springtime throughout Europe, they will also help your beautiful radiant skin emerge at night while you rest. Say good morning to a brighter you!
Where is it used?
Check out these products that use Spring Snowflake