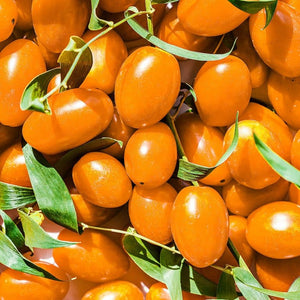 Seaberry
What is it?
Seaberry, also called sea buckthorn, natively grows in Asia and Europe. Its bright orange berries are considered a superfood because of the fruit's long list of health benefits and use dating back to ancient times.
How does it help skin?
Seaberry is loaded with skin-loving antioxidants, such as beta-carotene, Vitamin C, and Vitamin E. This fruit extract stimulates the skin and improves elasticity. It also improves the skin barrier function, which helps retain moisture, leaving you feeling hydrated. As an added bonus, it helps balance sebum on skin for a natural glow.
Did you know?
Stories of seaberry go back to Ancient times. One particular tale in Ancient Greece talks about horses returning from seaberry-rich forests with renewed health and shiny hair. The scientific name, Hippophae rhamnoides, comes from Greek words that mean "tree that makes horses shine".
Why did we choose it?
Seaberry may not be as well-recognized as some of your other favorite skincare ingredients, but we know how versatile this little berry powerhouse really is. The Greeks were the first to share this wisdom from Asia!
Where is it used?
Check out these products that use Seaberry