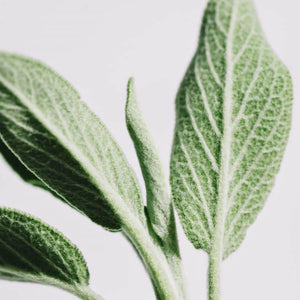 Sage
What is it?
Sage is a small evergreen plant native to the Mediterranean. From the Lamiaceae (mint) family, Sage has long been valued for use in medicine and cooking due to its vitamins and antioxidant properties.
How does it help skin?
Sage leaf oil is rich in Vitamin A which contributes to daily skin renewal. The antioxidants of sage combats free radicals, thereby easing the wrinkles, fine lines, and other signs of aging. This fabulous herb helps in keeping your skin younger, radiant, and flawless.
Did you know?
Sage in feng shui is used as a space cleaner from bad energy. Salvia officinalis comes from the Latin word meaning "to heal".
Why did we choose it?
Oxidative stress takes a toll on skin. Powerful, natural antioxidants, like sage, can help protect and revitalize skin from these reactive oxygen species (ROS) stopping the stress from showing on your skin. Grown in herb gardens across Europe, women also use this fragrant plant to keep their skin soft and youthful.
Where is it used?
Check out these products that use Sage