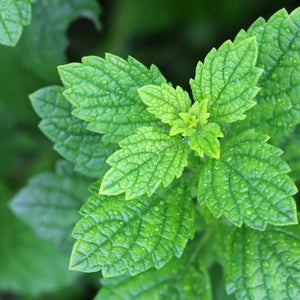 Lemon Balm
What is it?
Lemon Balm is a plant cultivated throughout Iran, Europe, and Central Asia. The leaves are heavily used in traditional practices to treat and prevent various diseases, and it has been known to have a soothing effect on the body.
How does it help skin?
A great source of antioxidants, Lemon Balm is truly a powerhouse when it comes to tackling oxidative stress. Its high level of flavonoids, rosmarinic acid, gallic acid, and phenolic compounds keeps your skin soothed and naturally balanced.
Did you know?
Lemon Balm is said to be a relatively easy herb to grow. If gardening isn't your specialty, you may want to consider starting with lemon balm as a beginner.
Why did we choose it?
Lemon balm is so easy to grow and has so many skin benefits that it is the worst kept secret in skincare! Lemon balm's ability to protect the skin against environmental stressors and its easy cultivation and low environmental impact make it a perfect addition to an SPF.
Where is it used?
Check out these products that use Lemon Balm