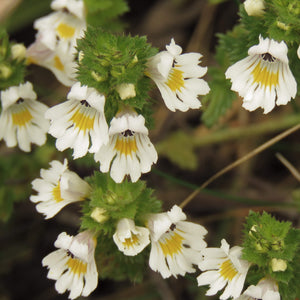 Euphrasia
What is it?
Found throughout Asia, Europe and North America, Euphrasia is a plant used in health care for its rich biological composition. It contains many skin-loving compounds, such as iridoids, flavonoids and phenolic compounds.
How does it help skin?
Euphrasia is a natural anti-aging ingredient that can help reduce the appearance of fine lines and wrinkles with its antioxidant and protective effects on skin. Studies show that this extract reduces UVB-induced photoaging by alleviating oxidative stress. The sun can cause a lot of damaging effects on the appearance and overall health of skin, and a free-radical scavenging ingredient like Euphrasia helps boost your skins antioxidant activity and maintain that youthful look.
Did you know?
Euphrasia is also called by a common name, Eyebright, because of its traditional folk use as a way to treat eye disorders.
Why did we choose it?
The name Euphrasia comes from the Greeks, derived from the name of one of the three graces who was known for joy and mirth. This history of happiness has followed Euphrasia as it is used around the world for eye health, skin health, and other positive benefits.
Where is it used?
Check out these products that use Euphrasia