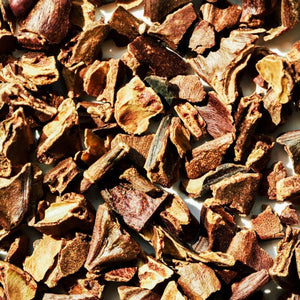 Carob
What is it?
Carob trees are cultivated for its edible pods and ornamental value. Seeds and extracts from the bark are also used in cosmeceutical applications.
How does it help skin?
Carob is a large natural source of antioxidants, which are helpful to protect and repair skin from free radical damage. This helps improve the look of wrinkles and lines, accelerating stressed-skin recovery. It has been studied for not only its antioxidant and phytochemical activity, but also skin moisturizing and soothing benefits. Carob has also been observed to improve the look of uneven skin pigmentation, leading to overall even skin tone.
Did you know?
Carob is sometimes used as a replacement for chocolate. Although some say the taste and texture can't compete with real chocolate, it's a non-caffeine version you can turn to when you have a sweet craving.
Why did we choose it?
The long, brown pods of the carob tree harbor natural, age-fighting ingredients that help the skin look and feel young.
Where is it used?
Check out these products that use Carob