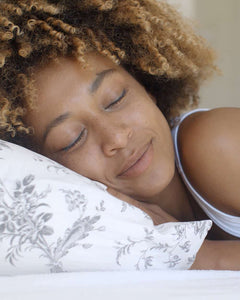 How to Help Tired, Dull Skin (When You Need ZZZs)
The ABCs of Helping Tired Skin
Very few of us get enough sleep these days, which can hinder your skin's natural ability to recover. This often shows on your skin as dehydration/lack of glow and eventually, wrinkles.
You've heard it a million times but we'll say it once more: Make getting enough sleep a priority. There's a reason they call it "beauty sleep" and there really is nothing else like it in terms of skin that looks and acts its best.
So what's the best way to prevent dehydrated and dull skin in terms of skincare? Well, how about hydration? (Put one slash in the "Gee, duh" column.)
As obvious as this is, dehydrated skin is often confused with dry skin, so the tendency is to pile on occlusive moisturizers as opposed to hydrating moisturizers with the emollients AND humectants, such as Hyaluronic Acid and Vitamins, that your skin is thirsty for.
Ingredients to Help Tired, Thirst Skin
If your skin's looking dull and tired, we recommend reaching for products from our Hydrate Collection, which includes a number of skin savers. The Refreshing Micellar Water removes even stubborn makeup and works with Sage Leaf Oil, Chamomile and Aloe Leaf Juice to rejuvenate and soften skin texture.
Augment your routine with our award-winning Moisturizing Toner, formulated to help soften rough, dry skin with Mallow Root, Rose Oil, Cucumber and Hyaluronic Acid as well as prep skin and amplify the benefits of any treatments that follow.
Reach for everyday skin revival with the Hydrate Moisture Replenishing Serum. Everlasting Flower Oil and Squalane are the key ingredients that help prevent moisture loss and keep your skin looking fresh as an Everlasting Flower. (Sorry, we couldn't resist.) It also contains Sodium Hyaluronate (Hyaluronic Acid) to plump up your skin, and so works beautifully with makeup.
If you really want to supercharge your beauty sleep, slather on the Hydrate Revitalizing Jelly Night Treatment. Scandinavian Bilberry swathes skin in natural fatty acids and vitamins that help fortify the skin barrier while Gardenia and Rosemary antioxidants assist skin in its self-repair process. You'll wake-up with ultra-supple and dewy skin.
So there you have it: The ABCs of helping tired skin look hydrated despite a lack of sleep. And now we are off to take a nap and catch up on our beauty sleep.
About the author, Naomi Furgiuele
Naomi is the founder of Nuria and a self-professed nerd with a love for all things science and skin care. She's had a hand in product development for some of the biggest global beauty brands in the business, gets some of her best ideas while out on a run, and loves her exfoliator almost as much as her awesome family.