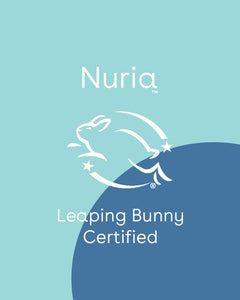 Proud to be Leaping Bunny Approved!
Nuria is honored to be Leaping Bunny Certified and recognized by the Cruelty Free International for being 100% cruelty free. 
This means we don't use animal ingredients or animal by-products in our supply chain or manufacturing processes, and we never test on animals - anywhere in the world. 
What is Leaping Bunny?
The Leaping Bunny Program was established in 1996 by eight animal protection groups who banded together to form the Coalition for Consumer Information on Cosmetics (CCIC).
Today, the CCIC promotes a single comprehensive Standard and an internationally recognized Leaping Bunny Logo, certifying companies as cruelty-free to help make shopping compassionately as simple as possible.
The CCIC is made up of the following organizations: American Anti-Vivisection Society; Animal Alliance of Canada; Beauty Without Cruelty, USA; Doris Day Animal League; Humane Society of Canada; The Humane Society of the United States; and the New England Anti-Vivisection Society. CCIC's international partner is the European Coalition to End Animal Experiments.
The Cruelty-Free Gold Standard
The Leaping Bunny Program set the gold standard for certifying companies cruelty-free and free of animal testing. They work closely with brands to help make shopping for animal-friendly products accessible and trustworthy. They provide tools and knowledge to help consumers shop for cruelty-free products.
One key requirement that sets the Leaping Bunny Program apart from other cruelty-free certification programs is that companies must annually recommit to upholding their promise to not conduct animal testing on any finished products, ingredients, or formulations.
Learn more about Leaping Bunny and their tireless efforts to stop animal testing.
About the author, Naomi Furgiuele
Naomi is the founder of Nuria and a self-professed nerd with a love for all things science and skin care. She's had a hand in product development for some of the biggest global beauty brands in the business, gets some of her best ideas while out on a run, and loves her exfoliator almost as much as her awesome family.