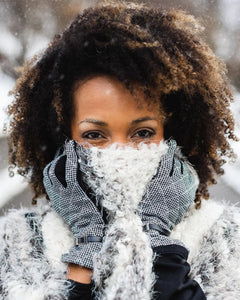 Transition Your Skincare Routine for Winter
While there are many aspects of winter to love, like the crunch of snow underfoot, cashmere, and the clink of champagne glasses, the most festive season of all brings with it the bitter winds and subsequent Sahara-like indoor heating that can leave your skin begging for mercy.
Fret not! There are a number of skincare routine countermeasures that go a long way in preventing the drier, itchier, more temperamental skin of winter. Below are the six we swear by.
1. Switch to a Gentle Cleanser
Humidity plummets in the winter, making the air much drier. Less moisture in the air means less moisture for your skin. This can result in a compromised moisture barrier and cracked, itchy dry skin. The first line of defense against dry winter skin is gentle cleansing.
Consider swapping out strong or clarifying cleansers (whether used on their own or as the second cleanse of double cleansing) for one specially formulated to maintain skin's moisture, like Defend Purifying Cleanser. Full of nutrients, it cleanses thoroughly without stripping your skin of its natural oils. And always rinse with tepid (not hot) water.
2. Incorporate a Hydrating Toner
Even those with troubled or slightly oily skin will benefit from adding a hydrating toner to your winter skincare routine and alternating it with your more astringent toner. If you have normal or dry skin to begin with, a hydrating toner is definitely a must.
Look for ingredients like hyaluronic acid and glycerin, as well as skin-calming and nourishing mainstays like chamomile, aloe and rose oil. Hydrate Moisturizing Toner contains all of these, plus Mallow Root, an antioxidant superstar.
Tip: Try to apply toner immediately after cleansing. Damp skin allows hydrating ingredients to better penetrate skin. Try layering your moisturizing toner with a tea tree oil powered pore minimizing toner.
3. Step up on Serums
If you're not already using a serum, now's a good time start; they're a powerhouse of concentrated nutrients that help protect your skin's moisture barrier and keep out environmental aggressors.
If you're already using a serum, consider trying one with a good dose of moisture-retaining essentials like squalane and hyaluronic acid. Antioxidants and adaptogens like Carrot Seed Oil and Rooibos Red Tea will help deflect free radicals and banish dull winter skin by encouraging cellular turnover.
Both our Defend Skin Restoring Serum and Hydrate Moisture Replenishing Serum contain a rich array of these potent ingredients and can be strategically alternated in your AM and PM routines.
4. Go For an (O)Mega Moisturizer
Before we talk about moisturizers, a quick refresher about the difference between a hydrator and a moisturizer may be helpful.
A hydrating ingredient like hyaluronic acid or aloe attracts and binds water within skin cells, plumping them up and making them better able to reflect light, which makes skin glow.
Moisturizing ingredients like essential fatty acids, oils and butters help seal in moisture and protect your epidermal barrier, so skin stays soft and smooth.
Ideally, your winter skincare routine will address both hydrating cells and sealing in moisture. Moisturizer becomes especially important in cold weather, however, in order to combat the ravaging effects of dry air, both outdoors and indoors. Keeping a humidifier in the room you spend the most time in (usually your bedroom) is another excellent way to mitigate the impact of dry air.
Defend Overnight Recovery Cream is cushy, comforting, and suitable for all skin types. A buffet of skin defenders, such as seaweed, brown algae (full of omega fatty acids), aloe leaf juice, antioxidants and nourishing vitamins cradle your skin in protective moisture while you sleep.
And don't forget your eyes! Defend Triple Action Eye Cream works on dark circles, puffiness and fine lines while moisturizing the delicate under-eye area, which tends be drier than the rest of your face.
5. Augment Your Routine with Masks
Using a sheet mask that's both moisturizing and hydrating at least once a week can provide a major boost to your skin's own barrier function; the extended contact with your skin allows the nutritive essence to deeply saturate and seal in vital moisture.
Try our Hydrate Replenishing Biocellulose Mask and Hydrate Nourishing Under Eye Masks to shore up your defenses against the elements and keep your skin bright and luminous.
6. Don't Forget Sunscreen
Broad spectrum sunscreen is always a must, no matter the season!
About the author, Jasmin Figueroa
Jasmin is an accomplished formulation scientist and skin health expert who has spent her career listening to consumers and developing products that rock. A founding member of the Nuria community, she loves traveling with her family, chilling with her friends at the beach, and will totally judge you if you don't wear SPF.