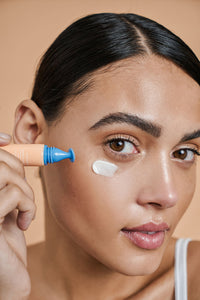 Korean Beauty Trends of 2021
With K-beauty on the rise, women are discovering a whole new caliber of skincare. Known for setting a higher standard for natural ingredients and luxury formulas, this realm is giving us access to better anti-aging treatments than ever before! So here's the real question: What's the secret? What really separates Korean skincare?
The answer comes down to one word: tradition. The K-beauty space focuses on some of the most ancient herbs in cosmetic history! And the reason is simple—these remedies are time-tested and clinically proven to work. Speaking louder than any beauty fad that comes and goes, the Korean cosmetic traditions are backed by science and data, and what's more, trusted by some of the pickiest socialites in the world.
For your frontline feed on what's hot in this industry, here are the top three Korean beauty trends of 2021.
Hanbang ingredients
"Hanbang" is a Korean word meaning traditional herbal medicine. Rather than just treating the symptoms, this approach focuses on healing the source of the problem to restore the body's natural defenses. The remedies are a special blend of herbs, each one working to target specific issues, such as inflammation or high blood sugar, while also helping to strengthen your immunity against future complications. So how does this tradition relate to skincare?
It's a matter of synergy
By applying ancient Korean wisdom to today's skin care formulas by using hanbang ingredients, you can create the ultimate beauty-boosting cocktail! This special "mingling" of powerful herbs produces a process known as synergy—when individual ingredients become more potent when combined.
Ginseng
More than just a nutritious superfood, ginseng is an adaptogenic herb—so it actually adapts to your needs! Used in Korean skin care, this ingredient naturally responds to signals in your body to perform all kinds of duties like reducing swelling, balancing hormones, or controlling pigmentation.
A recent study shows that ginseng offers stronger anti-aging effects when applied synergistically in combination with other hanbang ingredients. Inspired by these findings, the Defend Skin Shielding Essence combines ginseng with the antioxidant-rich, moisturizing qualities of carob seed—the ideal mixture to protect against the effects of UV rays, air pollution, and bacteria.
Mulberry root
For centuries, women in Korea have pampered their under eyes with mulberry root. It's a natural source of arbutin, a punchy antioxidant that helps recharge your circulation, helping your skin appear brighter!
Based on this Korean beauty trend, the Defend Triple Action Eye Cream features mulberry root in synergy with ginseng and cucumber. Through this breakthrough fusion of botanicals, antioxidants, and amino acids, this treatment works to energize and lift dark under eye circles.
Rice water
A favorite among K-beauty vloggers, rice water is the key to a glowing and poreless complexion. When formulated in combination with other hanbang ingredients, it can achieve noticeable skin-smoothing and brightening effects! For example, with the rejuvenating healing powers of mandarin oranges, rice water can calm acne-prone and help reduce hyperpigmentation. That's why the Rescue Rebalancing Cleanser uses this exclusive combination, along with Seaweed, Loquat, and Rosehip Oil to clear up your complexion and re-spark your skin's radiance.
Acid layering
K-beauty loves blending different exfoliating acids—a cosmetic art that's much trickier than most people realize. The goal is to create a treatment with the perfect level of intensity. Too much can irritate skin, while too little can be ineffective.
A skilled cosmetic chemist will create a balanced approach by layering acids from two main categories: alpha hydroxy acids (AHAs) and beta hydroxy acids (BHAs). Each type of formula offers unique solutions for your level of skin sensitivity and the extent of exfoliation you need. According to dermatologist Dr. Rachel Nazarian, over time, this acid layering process can fade acne scars and help build collagen, exposing a more illuminated and brighter texture.
Hydroxy acids: AHA vs BHA
Both AHAs and BHAs dissolve dead skin to unveil healthier new cells which are softer, lighter, and more hydrated.
AHAs such as glycolic and lactic acid target the topmost layers of skin, so they tend to be less abrasive. Going pore-deep, BHAs are most commonly available in the form of salicylic acid, which penetrates the dermis more potently to unclog any debris and control oil. For this reason, BHAs are often better suited for controlling breakouts and fading acne scars.
In K-beauty, using a careful mix of both BHAs and AHAs can offer a more well-rounded approach to improving skin quality, tone, and texture. Continuing this anti-aging tradition, the Defend Gentle Exfoliator offers a creative blend of lactic acid and ginkgo to purify pores and protect skin from environmental stressors.
Carrot seed oil
Not all K-Beauty trends are based on ancient remedies—meet carrot seed oil! As a relative "newcomer" to skin care, it's been used for 10+ years, loved for its rich sources of Vitamin A and a hoard of other cosmetic benefits, including anti-aging, antifungal, antibacterial, and anti-inflammatory.
Impressed yet?
Synergy + carrot seed oil
On its own, carrot seed oil provides a high level of environmental protection to prevent skin damage. By fending off stressors like airborne toxins, stress, and insomnia, Carrot Seed Oil is the ultimate dermal defender. But as we've learned, herbal remedies work best when they synergize with other antioxidants, producing even stronger healing effects.
For example, Rooibos Tea is a popular ancient remedy known to reduce the appearance of fine lines and wrinkles—but when this ingredient is paired with carrot seed oil, the anti-aging benefits become even more concentrated!
That's why the Defend Skin Restoring Serum is formulated with a powerful blend of Rooibos Tea and Carrot Seed Oil. These key ingredients work in combination with other antioxidants to fight dullness, restore moisture, and ignite your glow.
If you thought the wives of Beverly Hills set the beauty bar, you haven't shopped with Korean women! Choosing high-quality ingredients over new fads, this crowd knows all about premium cosmetics. No wonder the world is obsessed with K-beauty trends.
About the author, Jasmin Figueroa
Jasmin is an accomplished formulation scientist and skin health expert who has spent her career listening to consumers and developing products that rock. A founding member of the Nuria community, she loves traveling with her family, chilling with her friends at the beach, and will totally judge you if you don't wear SPF.