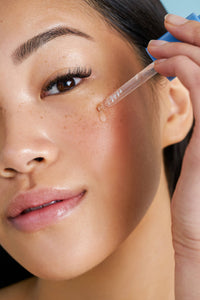 Top Beauty Trends of 2023
While TikTok, Snapchat, and Reddit continue to be source material for viral beauty trends, 2023 felt like a return to beauty basics, with skincare trends that sounded familiar and felt natural. With the surge in makeup, especially from our fave celebs, skincare rituals turned to more tried and true approaches that created a glowing canvas for unfiltered beauty or some fun with makeup. No matter the trend, we loved to see the connections being made as people shared beauty tips & tricks! So without further ado, let's dive into the 2023 highlight reel!
Skin Flooding & Moisture Sandwiching
A rose by any other name… 2023 saw SkinTok call this skincare ritual skin flooding or moisture sandwiching, but really, it is just good ole' layering. The basics: using more than one product, in a particular order, to maximize skin benefits. So why was this a trend? Because it really works and it is sooooo relaxing. The technique is simple and can be tailored to your skin needs, whether you struggle with dry skin, irritation, or oil control. Start your routine with gentle cleansing (we love a cleanser that removes makeup, dirt & toxins while adding natural goodness back into the skin), followed by your lightest, thinnest product, like a toner or serum. By starting your routine with this type of product, you allow it to penetrate the skin, making it most effective. Allow that first layer to dry (only a minute or two), and then follow with the next heaviest product, like a moisturizer. This practice will not only seal in the moisture but also keep that potent first layer against the skin. Your skin layering ritual can be 14 steps or 2 steps, the general approach will yield better skin benefits no matter how long you devote to self care!
The MUST HAVE Ingredients
Let's be real, we're a little burned out on "the ONE ingredient you have to use or your skin is crap" headlines. Once we finished rolling our eyes and investigated a little further, we found that most of these sensational posts were touting some time-tested ingredients that we do in fact love love love. Our two favorite trendy ingredients, that in reality were already in our skincare repertoire, are sodium hyaluronate and fermented ingredients.
Sodium hyaluronate is an at-home skin filler, a powerhouse ingredient that literally binds water in the skin, keeping skin hydrated and plump. While this ingredient is not new, this year brought us formulas that combined sodium hyaluronate with powerful antioxidants, leading to skin moisture coupled with complexion boosting benefits. For example, sodium hyaluronate combined with cooling cucumber and ginseng in our Triple Action Eye Cream means your under-eye area is not only hydrated, but also brightened, tightened, & oh-so awake.
Fermented ingredients started in K-beauty and continue to make their way into skincare globally, so why all the fuss? By bolstering the skin microbiome, fermented ingredients boost your skin's natural function, yielding skin benefits that range from acne control & skin brightness to antiaging. Our favorite fermented ingredients include rice water, in our Rescue Rebalancing Cleanser for acne control & improved skin elasticity, and lactic acid, in our Defend Gentle Exfoliator for exfoliation & improved skin hydration.
Glass Skin for the Win
Speaking of a trend that appears year after year… glass skin made its rounds on Instagram, TikTok, and basically every beauty magazine in 2023. If you're not familiar with the term, glass skin is when you get your skin into its healthiest state so that it looks translucent, dewy, clear, and smooth. The most effective way to achieve this K-beauty standard is consistency, consistency, consistency! Skin improvements don't happen overnight and they certainly don't happen when you miss out on days or nights of skincare indulgence. Add an essence like our Defend Skin Shielding Essence to your *daily* routine (yes, we mean every single day!) to see extra skin benefits like brightening, hydrating, and evening out skin tone.
Protect your skin's progress and prevent it from taking steps backwards by applying a daily moisturizer with SPF. Sun protection is the most important ritual for your healthiest skin yet! Never leave the house (or even sit by a window) without applying – and reapplying – our Defend Matte Finish Daily Moisturizer with All-Mineral SPF 30.
Skincare Hacks You Can Afford
Raise your hand if you have a ton of extra money to spend at the spa every week…..yeah, we don't either. Thankfully 2023 brought us at-home alternatives that we loved trying. Some hacks we are keeping in our daily ritual, and some were just goofy to try (and some we don't ever want to speak of again). Our faves for 2023? Frozen aloe vera facials and liquid facelifts!
When we saw the SkinToks on frozen aloe vera facials, we coveted the antiaging benefits and totally thought, "We can handle this….we are plant moms!" Whelp, it got a little messy. Cutting up the aloe plant was not as easy as it looked, and then squeezing the jelly into an ice cube tray was laughable. So, we ditched the whole thing and put our Hydrate Moisturizing Toner in the fridge for an hour and voila, cooling facial with aloe vera. Lazy? Yes. Effective? Absolutely!
Facelifts and fillers are expensive and honestly who wants that pulled-too-tight, my-face-doesn't-move look? But if you could get the skin smoothing, cheek plumping benefits of fillers & Botox without the cost & risk, sign us up! The key to an at-home, liquid facelift is one ingredient: hyaluronic acid. The topical version of hyaluronic acid is called sodium hyaluronate—a compound with the same chemical structure of hyaluronic acid but the molecules are chained together differently, creating a micro version of hyaluronic acid, allowing our pores to absorb it more effectively. Adding sodium hyaluronate into your ritual via a serum is the best way to get that at-home filler effect. So forget what we said before about not having a single favorite ingredient and cue the MUST HAVE INGREDIENT OF 2023 reel!
About the author, Naomi Furgiuele
Naomi is the founder of Nuria and a self-professed nerd with a love for all things science and skin care. She's had a hand in product development for some of the biggest global beauty brands in the business, gets some of her best ideas while out on a run, and loves her exfoliator almost as much as her awesome family.