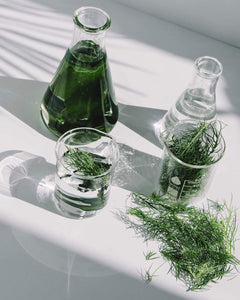 Top Anti-Aging Skincare Botanicals of 2022
Much like the fashion world, finding the Next Top Botanical is, for the most part, a recycling of the same-old familiar stuff—just marketed and labeled as something new. And it's not a bad thing! How else would the beauty industry keep our spark alive…decade after decade… with its vintage ingredients? So the folk wisdom you got from your nonna, nai nai, or bubbie probably wasn't outdated after all! Let's talk about them: here's the top anti-aging botanicals for your watchlist in 2022.
Adaptogenic herbs
Honoring our body's ability to self-heal, adaptogenic herbs do exactly what their name implies: they adapt to your genes! Used in Ancient Chinese medicine, these special herbs work in harmony with your body, helping it adjust any hormonal imbalances, so you can feel invigorated and stress-free. Due to this natural chemistry, adaptogens have incredible power in anti-aging skin care!
Adaptogens in anti-aging skin care
By applying adaptogens topically, these botanicals can kickstart our skin's ability to heal, strengthen, and grow. This age-old science is called "Hanbang," the Korean word for a traditional herbal medicine. By bolstering our skin's natural defenses, it gets a leg-up to tackle its problems at the source, rather than just superficially treating the symptoms.
Put it this way: would we rather create the illusion of plumper skin, or train our skin to actually self-plump? Let's learn about some key anti-aging botanicals that follow the Hanbang philosophy.
Rooibos + carrot seed
The best anti-aging botanicals create "winning combos," meaning they work better when combined, becoming even more powerful! Carrot seed, for example, on its own, is known to shield the skin from airborne toxins, photo damage, and fine lines.
"There is data to suggest that it helps neutralize free radicals to protect the skin from environmental exposures like UV light." says New York-based dermatologist Dr. Joshua Zeichner. Yet when carrot seed is blended with other adaptogenic herbs, especially rooibos, their antioxidants synergize and become crazy-stronger, further enhancing their healing properties. Based on this research, the Defend Skin Restoring Serum contains a blend of rooibos tea and carrot seed to fight dullness, boost moisture, and intensify your glow.
Ginseng (a league of its own)
As the queen of botanicals, ginseng is among the most common adaptogenic herbs. As a popular anti-aging ingredient in eye creams, studies prove that ginseng offers a powerhouse of benefits: it can reduce swelling, fade pigmentation, increase fibroblasts, and improve circulation.
The Defend Triple Action Eye Cream follows the beauty industry's interest in this ginseng, but takes things a step further. The formula combines it with the complementary herb, mulberry root, as well as other invigorating botanicals, to supercharge the adaptogenic effects.
Sea botanicals
These two marine soldiers do wonders for our skin: algae and seaweed! Not only are they bursting with vitamin A and nourishing minerals, they have adaptogenic abilities to restore your skin texture, delivering that dewy radiance without looking greasy or causing breakouts.
Among the high-ranking favorites in the K-beauty community is the Defend Overnight Recovery Cream, which blends green hanbang ingredients like aloe and this hard-to-pronounce duo of miracle seaweeds: Ascophyllum Nodosum and Fucus Serratus. These anti-aging marine botanicals produce concentrated antioxidants to brighten skin tone, tighten pores, and calm redness.
Botanical hydroxy acids: Alpha Hydroxy Acids (AHA) vs Beta Hydroxy Acid (BHA)
Plant-based hydroxy acids work by dissolving dead skin to unveil brighter baby cells for a healthier-looking complexion. The two types, AHA and BHA, work differently to solve specific dermal-congestion issues. Natural AHAs like lactic acid (extracted from pickled plants) exfoliate and polish the topmost layers of skin, so they tend to be less aggressive. As for botanical BHAs (from sources like beets or willow), they penetrate the dermis more deeply to unclog debris, shrink pimples, and control oil.
Botanical acid layering
In K-beauty, the order in which you apply these acid botanicals is everything! According to board-certified dermatologist Dr. Harold Farber, you should always apply BHAs before AHAs.
This acid-layering approach is based on a simple cosmetic science: potent ingredients go first and lighter ingredients go last. Otherwise, if you begin with a thicker product like an AHA-based moisturizer, it creates a coating that blocks the thinner fluids (BHA gels or serums) from penetrating the skin. So as we see, it's critical to respect the order in which we apply our anti-aging botanicals in our skincare routine.
Fermented botanicals: Plant-based AHAs
Well-tolerated by sensitive skin, fermented botanicals produce a natural form of AHA that's idolized in the clean beauty space. These compounds come from a process whereby microbes (either bacteria or yeast) snack on sugar molecules, converting them into something we all know as postbiotics! They can be extracted from a variety of nutritious sources like pickled mushrooms, green tea, and wasabi. Yum!?!?
As these anti-aging botanicals are highly bio-compatible with our skin, our pores absorb these nutrients seamlessly! Lactic acid is among the most common; it's excellent for gentle exfoliation and supports the dermal microbiome, says Cali-based scientist Dr. Barba Paldus. It works best in combination with a calming herb, like lavender, chamomile, or ginkgo, as with the Defend Gentle Exfoliator, to soothe the skin and prevent flaking. It also treats a variety of skin conditions, including wrinkles, dullness, dryness, and inflammation—with a much lower risk of redness or irritation than retinoids.
From the sea to the forest, every cranny on earth holds precious gifts to nurture our skin! And with over thousands of anti-aging botanicals on our skincare roster, treating yourself to the best ingredients doesn't have to feel fancy or unattainable; nor does it have to arrive in pretty gold-trim packaging. Just like nature, the real gems in life are simple, and so should be the standard for your skin care.
About the author, Naomi Furgiuele
Naomi is the founder of Nuria and a self-professed nerd with a love for all things science and skin care. She's had a hand in product development for some of the biggest global beauty brands in the business, gets some of her best ideas while out on a run, and loves her exfoliator almost as much as her awesome family.