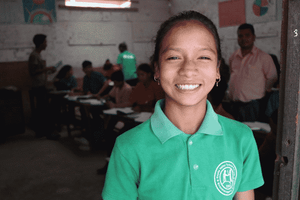 How One Girl is Racing for Equality With Your Help
Meet She's the First (STF) Scholar Jharana from Nepal! Jharana's not just the first girl in her family who will graduate high school, but she's also starting firsts in her own community.
Frustrated at the lack of opportunities for Nepalese women, especially for her own mother, Jharana wanted to bring awareness to the gender inequality happening in her own town.
At just 12 years old alongside her peer Sirjana, Jharana co-organized the Race for Equality in 2015, the first-ever 5K in Surkhet, Nepal. Though they only expected 100 or 200 attendees, more than 500 people showed up—and it's just as popular today.
In 2018, hundreds of students participated in the Race, sharing why they run in hopes of a gender-equal world; some signs included "I run for my mother", "I run for all the girls who can't", and "I run for my education".
Recently, she shared, "To eliminate this problem , we all should raise awareness to the people and make them empowered. I am in a girls club, and my friends are doing dramas, the race for women's equality, and making them aware about their rights. We should provide education to girls so that they can have employable skills, be independent, and do everything on their own. We should motivate them and encourage them to raise voices for themselves."
Earlier this year, Jharana was named the Student of the Year. With three more school years to go, she hopes to become an engineer when she graduates in 2021.
There's no stopping this runaway success—we can't wait to see what Jharana accomplishes in the years to come. Nuria proudly supports She's the First on their mission to make a difference through education for women globally, and we hope to meet more future leaders like Jharana.
Learn more about She's the First and how you can find your role in the movement for education for girls worldwide and gender equality.
Be Bright,
Naomi
About the author, Naomi Furgiuele
Naomi is the founder of Nuria and a self-professed nerd with a love for all things science and skin care. She's had a hand in product development for some of the biggest global beauty brands in the business, gets some of her best ideas while out on a run, and loves her exfoliator almost as much as her awesome family.