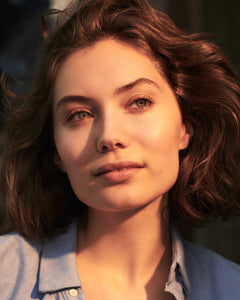 Sunscreen Protects Your Glow (Even in Winter)!
We all know the importance of wearing a good sunscreen with SPF when we are soaking up rays on the beach, but why should we wear it daily? Dermatology experts urge that we should apply sunscreen every day because the sun emits harmful ultraviolet (UV) rays year-round. Even on a cloudy day, up to 80 percent of the sun's UV rays can penetrate your skin.
So start thinking of your sunscreen as a skincare product that works immediately to help your skin stay safe, youthful, and bright every day.
How sunscreen works
Sunscreen works to protect the skin from harmful UV rays which can damage skin cells. Sunburn can cause premature aging and UV radiation can lead to skin cancer. No sunscreen can claim total sunblock, but sunscreen with a good SPF can help to protect your skin. Everyone's complexion is unique and each skincare ritual individual, but a key strategy for everyone is to include sunscreen in your daily routine.
Choosing the right SPF for you
Sun Protection Factor or SPF measures how well the sunscreen protects against ultraviolet B (UVB) rays, which are a major cause of sunburn and skin cancer. A sunscreen labeled as broad spectrum also protects against ultraviolet A (UVA) rays, which are a major cause of premature aging like wrinkles and dark spots. Yet it's not just about checking how high your SPF is when choosing sunscreen or if your sunscreen states broad spectrum.
Consider your sunscreen choice in the same way you would your daily moisturizer. Do you look for natural ingredients on the label? Are you vegan-friendly in your skincare product choices? Note whether active ingredients are chemical or mineral. Chemical sunscreens protect the skin by interacting with and absorbing ultraviolet energy. Sunscreens containing mineral sun filters are far less likely to aggravate sensitive skin or conditions such as eczema. Choosing an all-mineral sunscreen that is clean and natural helps all skin tones stay safe and healthy. Nuria's all-mineral, plant-based sunscreen, the Matte Finish Daily Moisturizer with Broad Spectrum SPF 30, works to rebalance skin exposed to stressors such as the sun in city environments and air pollution. It contains Peach Flower which has antioxidant and protective qualities against UV-induced skin damage. It illuminates by helping to reduce damaging oxidation and protects against pollution. It also contains Euphrasia Extract which is loaded with iridoids, flavonoids, and phenolic acids to help reduce UVB-induced photo-aging, fine lines and wrinkles, by alleviating oxidative stress. These two natural extracts have been used by women in China for centuries, powerfully protecting their skin. Formulated for daily use, the Matte Finish Daily Moisturizer with Broad Spectrum SPF 30 doubles as both an SPF and a mattifying moisturizer which quickly absorbs into the skin. It can be worn alone for a natural look and also works perfectly as a primer before makeup or a layer in a multi-step routine, for a flawless finish. Apply to clean and dry skin to create a radiant glow.
Our Top 5 Reasons for wearing sunscreen daily
So now we know that, whether rain or shine, it's advised to wear sunscreen daily. But how does it benefit us in the long-term? Here are our Top 5 Reasons for applying sun protection every day:
Reduces signs of aging - Going out without sun protection, even on a cloudy day, can damage collagen and connective tissues in your skin. Overexposure to the sun leads to loss of skin elasticity and ultimately fine lines and wrinkles. Why age fast when you can stay youthful longer!
Protects from sunburn - Nobody wants sunburn; apart from the unsightly straplines, allowing harmful UV rays to penetrate the skin can have lasting damaging effects.
Reduces the risk of skin cancer - Skin cancer is aggressive and can be life-threatening so it's essential to use a daily sunscreen. The latest data from the CDC reported that there were over 1,700,000 skin cancer cases in the US alone. Make time to protect your skin!
Protection from harmful UV rays - One of the major benefits of sunscreen is to protect your skin from the sun's broad spectrum of harmful UV rays.
Limits sunspots - Using a good sunscreen will help to keep your complexion even. Sun damage can cause uneven skin tone and sunspots. Wear sunscreen daily now and your skin will thank you for it.
About the author, Naomi Furgiuele
Naomi is the founder of Nuria and a self-professed nerd with a love for all things science and skin care. She's had a hand in product development for some of the biggest global beauty brands in the business, gets some of her best ideas while out on a run, and loves her exfoliator almost as much as her awesome family.