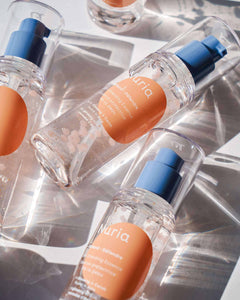 Clean Beauty: What is it, really?
Clean Beauty: it's hotter than hot right now, but also a phrase given to confusion. There probably isn't anyone who can define clean beauty in one sentence because there's actually no standard or legal definition, and many skincare experts agree that this lack of regulation has led to consumer confusion.
Most of us know that it's about the exclusion of questionable ingredients that have been linked in some studies to negative effects on human health, but that list of "bad" ingredients can vary wildly. What's more, some skeptics view the idea of clean beauty as a marketing tactic and raise questions about the benefits of "clean" when it comes to skincare.
We're very aware of the mixed messages around "clean" here at Nuria and take our commitment to clean seriously, so let's start from the top. And since Nuria means brightness or light, we wanted out clean beauty standards to be BRIGHT too.
Clean Beauty Made BRIGHT
Our philosophy is simple: We believe you have the right to know what you're putting on your skin so you can make informed choices and feel good about the products you use. What does BRIGHT stand for?
B is for Being free of animal ingredients and by-products.
R is for Research – of the ingredients both in our products but the 1300+ we leave out.
I is for Improvement of skin health.
G is for Growth – the method of growth and/or development for each ingredient.
H is for Honor – people and the environment.
T is for Testing – safety and efficacy – while remaining Cruelty Free.
Being 'free of' Animal Byproducts
We don't think animal byproducts or testing are necessary in skin care, so all of our formulas are vegan and cruelty-free.
Research: What's Not Inside Counts
Research isn't just about discovering and deciding what to put in our products, but also about what to leave out. There's no one standard definition of "clean beauty," but there is an entity called the European Union of Scientific Committee on Consumer Safety, and its standards are the highest standards in the world as far as what shouldn't and can't be in skincare products in order to be considered safe.
We at Nuria decided from the get-go to be EU compliant, so when we say clean, we mean clean, because the EU's list of banned and/or restricted ingredients is extensive. Over 1300 ingredients are on our "made without" list, including parabens, the sulfates SLS and SLES, phthalates, formaldehydes, formaldehyde-releasing agents, mineral oil, oxybenzone, coal tar, hydroquinone, talc, triclosan and triclocarban.
We believe there's good evidence that these ingredients are best left off your skin, but moreover they serve no purpose. We want our ingredients to shine in pure, effective formulas that are safe for everyone.
Improving Skin Health: The Efficacy of Clean Beauty
Did you know that 'natural' isn't always better, and that man-made can still be 'clean'? Ask any scientist about what have been labeled "toxic" ingredients and you're likely to hear this maxim: "The poison is in the dose." Apples, for example, have trace amounts of formaldehyde in them, but you'd have to eat about eight tons of apples for any formaldehyde to harm you.
What's more, there are many lab-made ingredients, well established as safe, which are known to improve the health and beauty of skin. We therefore occasionally use lab-made ingredients in instances when they're considered safer than natural alternatives for the skin and the environment, as well as provide more efficacious benefits.
How does your ingredient Grow?
Every ingredient in every product we make has been grown or developed for maximum potency and skin nutrition and then harvested or sourced from only the most ethical and eco-friendly sources.
Honor bound: Respect the Environment
We believe our responsibility extends to the environment; that's why Nuria is proudly carbon netural. Plus, all Nuria packaging is recyclable and our carton paperboard manufactured using only wind power or hydropower, both renewable energy sources, so our products honor "clean" for both your skin and the planet.
Test & Test again – and Remain Cruelty Free.
We conduct rigorous product stability, packaging compatibility, micro testing, irritation testing, and clinical testing to ensure that you'll receive quality products that won't harm skin. And none of it ever involves our animal friends.
And That's Never All
At Nuria, clean never rests. We vow to be transparent as we continue to evolve our definition of clean beauty. The bottom line is that our clean beauty standard will mean that our products will always be safe and effective for your and your skin, safe for the environment, and kind to animals.
About the author, Naomi Furgiuele
Naomi is the founder of Nuria and a self-professed nerd with a love for all things science and skin care. She's had a hand in product development for some of the biggest global beauty brands in the business, gets some of her best ideas while out on a run, and loves her exfoliator almost as much as her awesome family.