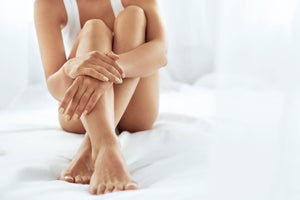 Body Care Tips
In a selfie-obsessed world, our beauty efforts tend to fall into one basket: our face! But what about the remaining 80% of skin on our body? From bacne and chapped knuckles to scaly elbows or a dry décolletage, our body needs just as much moisture and nourishment to stay smooth and plump. Here are some pro tips on how to take your body care regimen to the next level.
Hands & legs skincare tips
When it comes to UV and pollution exposure, our hands and legs are especially vulnerable to skin damage (our face being number one). To protect these parts, we should focus on two main priorities: moisturization and exfoliation.
Hands
Our hands are exposed to tons of irritants throughout the day: cleaning products, sanitizer, perfumes, detergents. Not only do these chemicals cause dryness but the skin can also become inflamed, cracked, and itchy— all common symptoms of eczema.
Applying moisturizer is critical to creating a barrier between any external antagonists and the delicate skin on your hands. By protecting your skin from the elements, you can also delay signs of hand aging. According to dermatologist Dr. Amy Kassouf, "Dry, scaly skin, brittle nails, and dark age spots can become problems as people get older. Your hands can also develop a skeletal appearance because you lose fat in some places as you age." So ideally, you'll want to apply a vitamin-rich moisturizer like the Calm Daily Moisturizer, packed with natural antioxidants from Cottongrass to Safflower and rich emollients like Cocoa Butter and Shea Butter.
Legs
When we're fresh out of the shower, caring for our legs is often a rushed last step in our routine. But it's not enough to simply blob lotion onto your just-shaven legs. We also need to exfoliate them!

Since the microbead versions are too abrasive, Dr. Kassouf suggests using a gentle chemical formula to dissolve away dead skin cells. To achieve that smooth radiant texture, go for cleansers that contain resurfacing agents like Lactic Acid and Ginkgo—the prime ingredients in the Defend Gentle Exfoliator.
Body acne treatment tips
Swimsuit shopping is never as fun when you're dealing with bacne. Whether you've got mild blemishes or full-on breakouts, you can help resolve this condition by treating the underlying cause of the problem: sebum control!
How does bacne happen?
Unlike our facial skin, the dermal structures on our back are much stronger and have larger pores. For this reason, your cleansing treatment should focus on purifying and calming the pores, allowing sebum to escape onto the skin surface. However, if you develop bacne, it means your skin's sebum-regulation process isn't working as it should.
According to the National Institute of Health (NIH), "When someone has acne, the hair, sebum, and keratinocytes [dead skin cells] stick together inside the pore." This buildup of impurities and oil prevents the older dermal cells from shedding properly, which traps this sebum-gunk mixture in the pore.
How to treat bacne
Many antibacterial body wash formulas focus on active ingredients like salicylic acid or benzoyl peroxide to aggressively treat blemishes. But the reality is that our skin can develop a resistance to these chemicals, requiring higher medical-grade doses to work. For others, these harsher treatments, even in small amounts, can be too irritating for people with sensitive skin and can dry you out making your skin itchy and uncomfortable.
Opt for a natural bacne solution to resolve the breakout gently. The Rescue Pore-Minimizing Toner features Witch-Hazel and Horsetail to relieve redness, along with Tea Tree Oil and Rosemary to combat unfriendly bacteria. For your bacne skincare treatment to work, be sure to apply the toner with a soft material like a cotton pad or eco-friendly cloth. Although the skin on your back is strong, it still needs a gentle touch. As Dr. Christie Kidd explains, "So many people make their irritated skin much worse by scrubbing it raw with a washcloth." Instead, she advises to cleanse the area like you'd wash a newborn baby — super gently.
Whole body skincare tips
Our bodies are breeding grounds for bacteria. These moisture-loving microbes just go gaga for your sweat! That's why after the gym or any fitness activity, you should never let your sweat linger on your body for long.
Body cleansing habits
Dermatologist Hailey C. Reich recommends wiping off your sweat using a clean towel and putting on fresh, clean clothes afterwards. "I also remind athletes that getting in the shower and rinsing off soon after a workout can help minimize the effects of irritation from the sweat and occlusion of wet clothing," says Dr. C. Reich. Yet if you can't shower right away, at least dress in newly-washed, loose-fitting clothes; this approach will prevent the fabric from rubbing against your skin and trapping bacteria.
If you shower with a loofah, be sure to avoid over-exfoliating. When you're too abrasive with your skin, you can injure the surface dermal cells and weaken its defensive barrier.
How to love your skin
To improve the look and feel of your body, use a natural treatment that contains super hydrating ingredients to prevent dryness. The Revitalizing Night Jelly, for example, contains Spring Snowflake to rejuvenate dull skin, and Bilberry to replenish the skin with antioxidants and moisturizing fatty acids.
And if you're needing another luxurious product for enrichment and hydration overnight, the Overnight Recovery Cream uses essential minerals and powerful oceanic plants to provide nutrient-rich absorption while you sleep. Since our bodies do most of its self-healing while we snooze, this skincare solution helps support the process that our cells already do naturally, so you wake up with a visibly radiant complexion.
Our skin is a reflection of our wellness. Let's care for all of it! By creating a routine that values our facial skin equally to our bodies, we can feel good about protecting and beautifying the whole package—face to footsies—no shortcuts made.
About the author, Jasmin Figueroa
Jasmin is an accomplished formulation scientist and skin health expert who has spent her career listening to consumers and developing products that rock. A founding member of the Nuria community, she loves traveling with her family, chilling with her friends at the beach, and will totally judge you if you don't wear SPF.