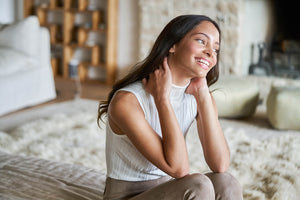 Achieving Healthy Skin
There's a reason we're all chasing the perfect #nomakeup selfie. Having the confidence to flaunt the bare-faced look goes beyond your average trend—it's a lifestyle. It's about embracing the freedom to abandon our cleverest and cheekiest contour tricks to unmask our most natural, unedited selves (but just a glowier version). Sounds achievable, right? To reach your #beautygoals, let's talk about how to get healthy skin, not perfect skin.
How to get healthy skin
The first rule to remember is that nobody has perfect skin! Even the most stunning actresses in Hollywood have flaws like large pores and acne marks. Afterall, we're just human—even if the beauty industry makes us feel otherwise.
So it's important to have realistic skin care goals. Although we shouldn't aim for perfection, we can wake up to a naturally glowing complexion (without makeup!).
Here's how to get healthy skin by improving your routine.
Get clear and glowing
The most basic starting point for healthy skin is simple: keep it clean! Sure it sounds obvious but ask yourself this question: how often do you sleep with makeup on?
According to dermatologist Dr. Melanie Palm, "Sleep is a restorative time for the skin, and if oil glands and pores are blocked by the day's makeup, the results can be disastrous." With makeup on overnight, your dead skin cells are blocked and therefore can't shed properly, causing them to mix with your residual makeup, sweat, and sebum, along with any other lingering germs, allergens and bacteria. This pore-clogging glob creates a "plug" of grossness, and within a few days, it'll spawn pimples, blackheads, and whiteheads. Yuck! To keep your skin clear and healthy, never go to bed with makeup still on! Every night and morning, you should be using a natural cleanser that contains a gentle antibacterial ingredient like Rosehip Oil and Seaweed, leaving your skin fresh and supple, allowing your skin to go through it's natural restorative processes. Or if your skin is either dry or acne-prone, you're better suited with an exfoliating cleanser. The Defend Gentle Exfoliator, for example, is made with vegan lactic acid, which sheds away dead cells to polish and prime your skin without irritation.
Pore toning
Even after cleansing, your pores still need love! You should always remember to remove any leftover traces of dirt and grime with a plant-based toner, which also has astringent properties to detox and tighten your pores while prepping your skin for your next step.
According to Beverly Hills-based dermatologist Dr. Stuart Kaplan, "A good-quality toner should remove any residual impurities on the skin while balancing the skin's natural pH." By restoring the skin's protective barrier with healing botanicals and probiotics, you will help your skin to control oiliness and acne. For more reactive or sensitive skin, opt for a pore-minimizing toner, designed with dermal-calming agents like Witch Hazel and Tea Tree Oil for a smooth, airbrushed look.
Boost your facial circulation
Skin brightness actually has a lot to do with facial circulation! Think about how we blush from feeling embarrassed or excited—that rosy glow comes from an increase of blood in our face.
To support these blood-boosting effects, researchers are currently uncovering impressive benefits from Carrot Seed Oil and Rooibos Red Tea. The Skin Restoring Serum is made with both Carrot Seed and Rooibos Red Tea to relieve redness and promote facial circulation. These stimulating effects help increase the oxygen levels in our skin, encouraging our skin to look fresher and vibrant, explains dermatologist Ellen Marmur, MD, author of Simple Skin Beauty.
Hydrate inside and out
Keeping our skin hydrated starts from within. So, two words: drink water!
When you're dehydrated, the skin becomes less oxygenated, causing a dull complexion and making fine lines appear more obvious. According to Dr. Susan Evans, a Beverly Hills dermatologist who treats many celebs, "Water will both hydrate your skin and flush out the toxins that can damage your complexion." By purifying your body, increasing your water intake will leave your skin plumper and smoother, minimizing the look of fine lines and brightening your face.
But besides drinking water, you can also support your skin health with a hydrating night treatment. The Defend Overnight Recovery Cream, for example, breathes life back into your skin with a rich infusion of mineral-rich sea waters and powerful oceanic plants like Seaweed and Brown Algae. By repairing cellular damage while you sleep, you can wake up to a more radiant, fresh-looking you!
Wear SPF — always!
In sun or rain, never skip SPF! Even on a cloudy day, 70% of UV light can still escape and release free radicals that cause oxidative stress to your skin. In other words, the UV rays are basically robbing vitamins from your healthy cells. This process causes photoaging in the form of hyper-pigmentation (dark spots or discoloration), skin laxity (sagging or loose skin), and wrinkles.
To shield your skin from sun damage, you should apply an SPF lotion to your face whenever you're exposed to daylight, and that even means through windows (and re-apply every two hours).
The absolute minimum level of SPF you need to use is SPF 30 – anything lower simply isn't that effective, explains LA-based dermatologist Dr. Jason Emer. The Defend Matte Daily Moisturizer contains SPF 30 and is packed with natural antioxidants and hydrating botanicals to replenish and soothe your skin.
DIY spa days
Healthy skin needs to be spoiled (in the good way!). Make sure to carve out time once or twice a week to rejuvenate your skin with a mask treatment.
Whether you've had a stressful day at the office or you're just hormonal, a mask can give your skin that extra nutritional support it needs. Unlike a standard moisturizer, a face mask is a more intensive therapeutic solution that's designed to target specific skin needs.
A purifying mask, for instance, focuses on detoxing your pores from dirt and debris, while also invigorating your deep dermal cells with stimulating plant extracts like Green Tea and Apple. Or if you're having a dry skin day and need a serious pick-me-up, a hydrating mask is designed to replenish your natural collagen levels.
When it comes to mastering the makeup-free look, it all starts with healthy skin! But as we all know, it takes effort to look effortless. By stepping up your skincare routine and committing to the steps, you'll finally get that gorgeous glow you've been craving!
About the author, Jasmin Figueroa
Jasmin is an accomplished formulation scientist and skin health expert who has spent her career listening to consumers and developing products that rock. A founding member of the Nuria community, she loves traveling with her family, chilling with her friends at the beach, and will totally judge you if you don't wear SPF.