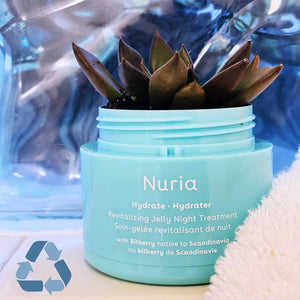 Reusing Your Skincare Containers
Earth-conscious consumers now understand that they are helping the planet by purchasing skincare products with sustainable packaging. In addition to buying from earth-friendly brands and recycling empty packaging, you can get creative and repurpose your favorite packaging to give it a second life! Finding new uses for skincare packaging saves the environment and makes you feel good along the way.
Fun ideas for repurposing your empties
Flower and Plant Pots - Nuria Defend Overnight Recovery Cream jars make for great mini succulent planter jars. The peach-colored jar looks adorable as it contrasts with green succulents. Creating your new planter is simple: Give your empty jar a good clean and add a little potting mix to the base before planting your succulent. Pop them into a sunny spot and watch them grow! The lilac Nuria Calm Daily Moisturizer tube can also be repurposed as a mini flower vase. Placed next to a workspace with some pretty flowers to bring a little joy to your workday.
Essential Oils - The pipettes on the Nuria Defend Skin Restoring Serum work perfectly as essential oil droppers. Clean out a serum jar after use and mix carrier oil with your favorite essential oils. Give it a shake and places a few drops into a warm bath or oil diffuser for a heavenly scent. You could also pop a few wooden reeds into an empty jar, add some essential oils, and make a homemade diffuser!
Hand Sanitizer - We're getting used to leaving hand sanitizer around the house, but why does it have to be in such an ugly bottle? Next time you have finished some Nuria Calm Cleansing Milk, give it a rinse and refill with your hand sanitizer. Placed next to a doorway or sink; it looks stylish, and it protects too!
Pre-soaked Toner Pads – Love having a toner in your routine, but tired of dragging out your cotton rounds every time? The Nuria Hydrate Revitalizing Jelly Night Treatment jar makes the perfect container to combine your cotton rounds with one of the Nuria toners! The best part? Your pre-soaked pads are now travel ready – just give your jar a new label, pop it in your bag, and you're ready for vacation!
A Little Jar of Things - Small items go missing all the time, so why not store earrings, hair ties, bobby pins, or buttons in an unused jar. You'll never lose an earring again!
How to clean your packaging
If you're reusing packaging, then you need to ensure that it's totally clean before refilling. We usually follow these simple steps:
Let any product exit by turning the jar or bottle upside down overnight. Remove any excess product before refilling.

Rinse the bottle or jar with warm water to loosen and liquefy any residue.

Use a white vinegar solution as a natural sanitizer. Fill the jar or bottle ¾ full and add 2 teaspoons of white vinegar. Replace the cap and shake to combine the water and vinegar. Leave for about 15 minutes and then rinse the bottle with water. Allow to dry.

Alternatively, replace white vinegar with dish soap, or if you want the packaging fully sanitized, fill the bottle or jar with rubbing alcohol, shake, then leave overnight.
Reduce, reuse, recycle
At Nuria, we are proudly carbon neutral. We've offset the carbon footprint of every product over its entire lifecycle, from raw material extraction and manufacturing through product use and recycling. Recycling is one of the ways that you can continue to reduce carbon emissions. To recycle properly, disassemble the product and give it a thorough clean before popping into a separate recycling bin. Why not purchase a cute recycling bin for your bedroom or bathroom for easy disposal!
The days of throwaway packaging and excess are over, and it all starts with us. Caring for the planet means embracing the 3 Rs: reduce, reuse, and recycle! Helping the environment, one jar at a time.


About the author, Jasmin Figueroa
Jasmin is an accomplished formulation scientist and skin health expert who has spent her career listening to consumers and developing products that rock. A founding member of the Nuria community, she loves traveling with her family, chilling with her friends at the beach, and will totally judge you if you don't wear SPF.