Travel the World Starter Set
Your one-way ticket to great skin on the go
Skincare essentials while you're on the go! This travel kit simplifies your skincare routine in one convenient, easily packable kit. Exfoliate, tone, replenish, moisturize, and hydrate with our easy-to-follow routine. Because you've got more exciting things to do than overthink about your skin!
Includes:
Gentle Exfoliator: 20 ml / 0.7 fl oz liq US
Pore Minimizing Toner: 30 mL / 1 fl liq oz US
Moisture Replenishing Serum: 10 mL / 0.3 fl oz liq US
Daily Moisturizer: 10 mL / 0.3 fl oz liq US
Jelly Night Treatment: 10 g / 0.3 oz
Nuria Cosmetics Bag: 6W x 2D in
As featured in Well + Good.
$65 value!
Meet the Routine
Step 1: Apply the Gentle Exfoliator to clean wet skin and start to feel the magic everyone is raving about. It purifies, exfoliates, and smooths rough skin texture without harming your skin barrier. All without microbeads!
Step 2: Apply the Rescue Pore Minimizing Toner, with Tea Tree Oil, to your entire face. It minimizes the look of pores + helps reduce the appearance of imperfections, like whiteheads, blackheads, and blemishes making for an even clearer complexion. Let it dry completely before moving to the next step.
Step 3: Hydrate Moisture Replenishing Serum to boost hydration + moisturize + nourish + replenish dull, dry skin. Nuria's serum philosophy is for "less-is-more" formulas with only the essential ingredients. That's why you need only 1-2 drops to get the full benefit of our serums, which might be more gel-like than other serums you have tried. Let the serum absorb completely before moving to the next step.
Step 4: Apply the fragrance free Calm Daily Moisturizer, which delivers relief and long-lasting hydration to leave your skin feeling plumped and nourished.
Step 5: Apply the Hydrate Revitalizing Jelly Night Treatment to nourish, smooth, and fortify your skin. Use it as a sleeping mask, and you'll wake up with plump and dewy skin.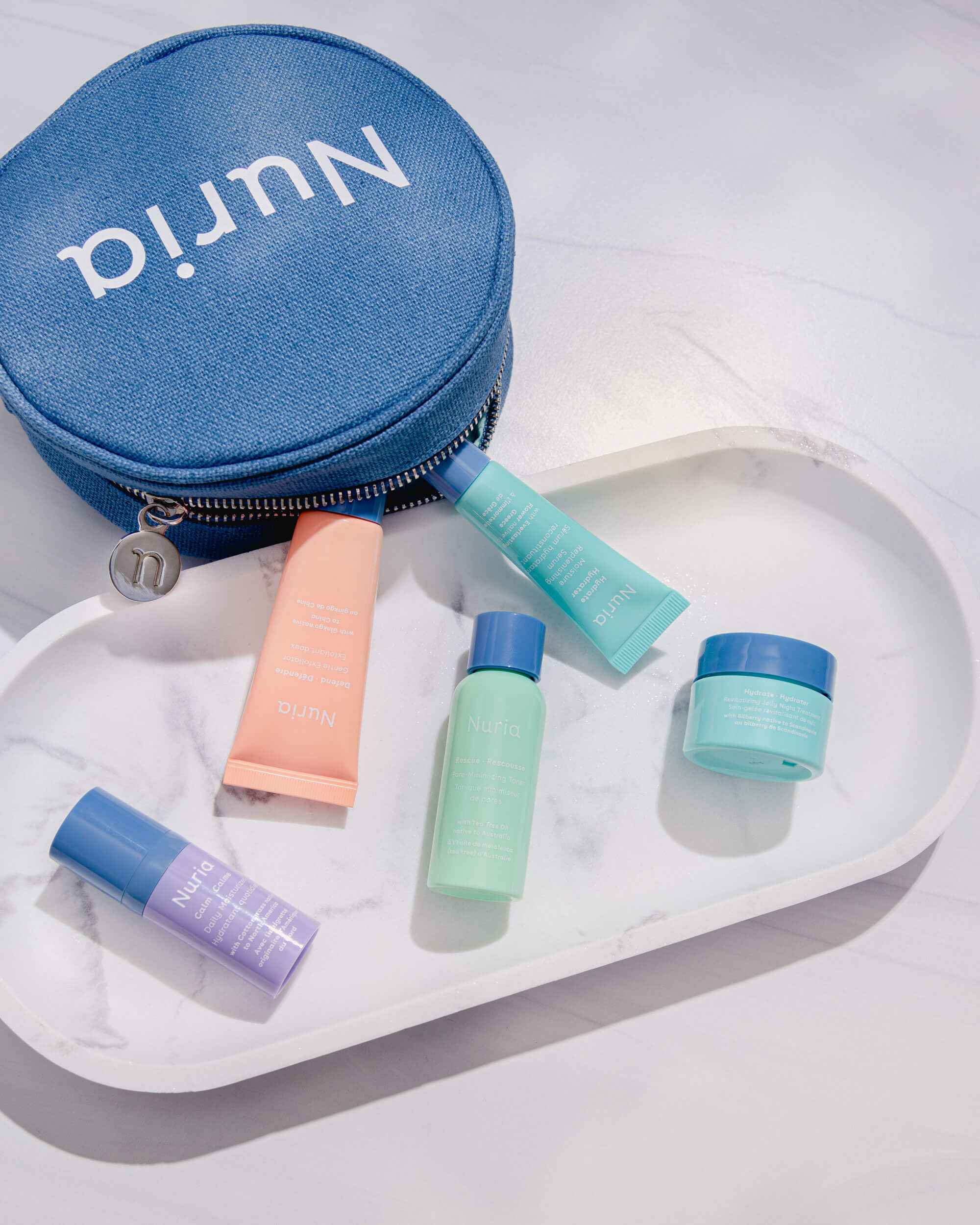 Create Your Routine
Make this Travel the World Starter Set a great step in your skincare routine