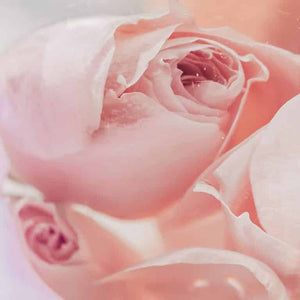 Rose Oil
What is it?
Rosa rubiginosa or sweetbriar rose is a rose species native to Europe and parts of Asia. With its fragrant pink and white petals and nutrient-packed hips, this rose is a popular choice for tea.
How does it help skin?
Sweetbriar rose contains a high amount of vitamins and nutrients that naturally boost a renewed look of skin. Flavonoids are highest in the Rosa rubiginosa species and are especially important to skin with its antioxidant benefits.
Did you know?
The Rose of Hildesheim or the thousand-year rose is believed to be the oldest living rose in the world. It grows on the wall of the Cathedral of Hildesheim in Germany. In 1945, even when bombs destroyed the cathedral, the bush survived.
Why did we choose it?
We once asked a woman in Paris the secret to her youthfulness, and she smiled and said roses, filling your home with their loveliness and using them on your skin! Roses are not only beautiful, but contain lots of vitamins and nutrients to help your skin look its brightest!
Where is it used?
Check out these products that use Rose Oil