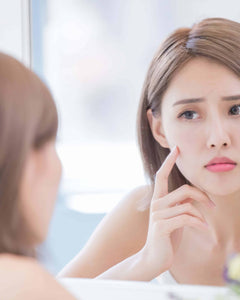 What Are Skin Stressors & How to Manage Them
Thousands of years ago, our ancestors had to deal with things like being chased and possibly eaten by a tiger. While perhaps ideal for ancient thrill seekers, most of us would find these circumstances pretty stressful.
We'll never know if these living conditions gave them acne, but modern-day stress sure can. And acne is just one of the symptoms of stress that can show up on our skin. Lack of radiance and even garden-variety dry skin can be triggered by stress.
Let's look at the two major kinds of skin stressors — external and internal — and some management strategies to keep your skin looking its clear and glowing best.
External Skin Stressors
Lions & Tigers and Mean Bosses, Oh My! External stressors come from the environment, and while you often don't have a great deal of control over them, you do have more power over how to manage them than you might think.
Being chased by a tiger, mean bosses, love-life woes, etc, are external stressors that cause emotional stress, and when we're stressed our body releases the hormone cortisol (hence why it's called "the stress hormone").
Lest we blame cortisol entirely, it's actually the testosterone that's released with cortisol (in minute amounts) that triggers oil production, which is at the root of most acne issues. This is especially problematic for women because we don't usually have a lot of testosterone in our bloodstream, so the least little overload can lead to blemishes, even in skin not prone to acne.
One of the best lines of defense against stress-induced flare-ups is keeping your skin clean and hydrated. The Nuria Rescue Rebalancing Cleanser and Pore-Minimizing Toner are fantastic basics to incorporate into your skincare regimen to help prevent and manage congested skin. Ingredients like Mandarin orange, Rice Water, Seaweed, Sodium Hyaluronate (Hyaluronic Acid), Loquat (an antioxidant-rich fruit indigenous to south-central China), Tea Tree Oil, Witch-Hazel and Horsetail all work together to bring balance, harmony and glow to troubled skin.
The Big Bad Sun & Free Radicals
Acne isn't the only result of stress. Skin dullness and hyper-pigmentation are the result of two major external stressors: The sun and free radicals (cue ominous music).
It's certainly true that without the sun there would be no life on earth, but wow! does it do a number on your skin. Of course the most important step in protecting your skin against sun damage is wearing a high SPF, UVA/UVB broad-spectrum sunscreen every day, rain or shine.
Free radicals, the second big stressor, are essentially unstable molecules that can wreak havoc on skin and contribute to premature aging. Defending your skin against them every day is also essential.
The Power of Antioxidants
That's why antioxidants, which boost the anti-aging profile of all your skincare, are your best friends! The Nuria Defend Collection includes seven different products, each one rich with antioxidant benefits.
Everyone can benefit from incorporating items from this collection into her or his skincare routine, starting with the Gentle Exfoliator and Purifying Cleanser as well as the Purifying Bubble Mask. All of these products work to gently clean and purify with an array of ingredient powerhouses, including Gingko, Lactic Acid, Moringa Seed, Seaberry, Green Tea, Charcoal and Apple Juice amino acids.
Enhance your skin's defenses even further with the Defend Skin Restoring Serum and Overnight Recovery Cream, both of which replenish nutrients and fight dullness caused by environmental toxins and general climate conditions. Star ingredients include Rooibos Red Tea, Carrot Seed Oil, Seaweed and Brown Algae, all bursting with antioxidant and vitamins to defend and nourish skin.
Internal Skin Stressors
Internal stressors come from within your body, and they pose a different set of challenges to manage in terms of their effect on your skin. Genetics, chronological skin aging and hormone fluctuations are some factors included in this category, as well as more controllable ones like smoking and lack of sleep.
You may have noticed that internal and external stressors can sometimes overlap and it's not always easy to know which is which and/or what your skin is reacting to. The good news is that many of the preventative and treatment measures in Nuria skincare collections address both.
Lack of Sleep: Without Enough Zs You Need More ABCs
Very few of us get enough sleep these days, which can hinder your skin's natural ability to recover. This often shows on your skin as dehydration/lack of glow and eventually, wrinkles. 
You've heard it a million times but we'll say it once more: Make getting enough sleep a priority. There's a reason they call it "beauty sleep" and there really is nothing else like it in terms of skin that looks and acts its best.
Keeping Skin Hydrated
So what's the best way to prevent dehydrated and dull skin in terms of skincare? Well, how about hydration? (Put one slash in the " Gee, duh" column.)
As obvious as this is, dehydrated skin is often confused with dry skin, so the tendency is to pile on occlusive moisturizers as opposed to hydrating moisturizers with emollients AND humectants, such as Hyaluronic Acid and Vitamins, that skin is thirsty for.
If your skin's looking dull and tired we recommend reaching for products from our Hydrate Collection, which includes several skin savers. The Refreshing Micellar Water removes even stubborn makeup and works with Sage Leaf Oil, Chamomile and Aloe Leaf Juice to rejuvenate and soften skin texture.
Augment your cleansing routine with the Moisturizing Toner, formulated to help improve skin elasticity with Mallow Root, Rose Oil, Cucumber and Hyaluronic Acid as well as prep skin and amplify the benefits of any treatments that follow.
Reach for everyday skin revival with the Hydrate Moisture Replenishing Serum. Everlasting Flower Oil and Squalane are the key ingredients that help prevent moisture loss and keep your skin looking fresh as an Everlasting Flower. (Sorry, we couldn't resist.) It also contains Sodium Hyaluronate (Hyaluronic Acid) to plump up your skin, and so works beautifully with makeup.
If you really want to supercharge your beauty sleep, slather on the Hydrate Revitalizing Jelly Night Treatment. Scandinavian Bilberry swathes skin in natural fatty acids and vitamins that help fortify the skin barrier while Gardenia and Rosemary antioxidants assist skin in its self-repair process. You'll wake-up with ultra-supple and dewy skin.
Don't Stress About Stress
One of the best things you can do about stress and how it affects your skin is to not stress about stress. Forming habits like deep breathing and meditation in addition to limiting time spent on devices and social media will go a long way to decrease overall stress.
A thoughtful skincare ritual can certainly be an important part of managing stress as well. Your Nuria routine will probably end-up including a cross-section of products from the Rescue, Defend and Hydrate Collections, as they're all designed to be mixed and matched according to your skin's transitional needs.
Learn to savor each step and unplug your mind from the daily whirl; you'll soon see results in the form of skin that glows from within and out.
About the author, Jasmin Figueroa
Jasmin is an accomplished formulation scientist and skin health expert who has spent her career listening to consumers and developing products that rock. A founding member of the Nuria community, she loves traveling with her family, chilling with her friends at the beach, and will totally judge you if you don't wear SPF.