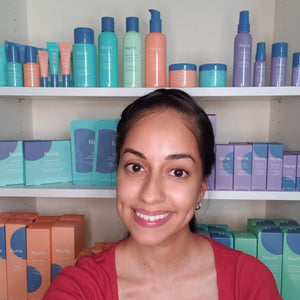 Tracking Your Skin
The ugly truth about getting older is that your skin takes a bit longer to cycle – shedding dead skin cells and revealing newer, younger skin is a process that slows down with age. Don't worry, the simple trick of tracking the changes happening to your skin will help you adapt your routine to fit this new, slower cycle and to maximize results. Look at these changes as an opportunity to learn and grow with this new skin journey. Maintaining a steady skincare routine (and making informed changes along the way), regardless of age, is one way to stay ahead of the curve and keep that youthful looking glow at all times. 
WRITE IT DOWN
Let's be honest, the amount of time we spend on our phones is way more than we'd like to admit, but we may be able to use it to our advantage when it comes to keeping track of our skin!
A few years ago, always seeming to appear out of nowhere, I would "every so often" get a pimple on my forehead in the same exact spot. One day, after being extremely annoyed, I decided to open up my Calendar app and quickly jotted down when my pimple popped up. I realized that my "every so often" timing was actually every 4 weeks, and figured out that it was part of changes to my hormonal cycle as I was getting older! Armed with this information, I adapted my daily routine by introducing the Rescue Pore-Minimizing Toner with Tea Tree Oil to help regulate the excess oil production that was happening on my face and prevent any cyclical breakouts. This helped me keep my skin balanced and got rid of my hormonal acne completely!
STAY CONSISTENT
In a world of instant gratification, skin just isn't built the same way. Sticking to a product for at least 1 full skin replenishment cycle (4-6 weeks depending on age) is a commitment that needs your care and attention. It can be frustrating when something doesn't work immediately, but changes to your skin on a deeper level won't happen overnight.
As I've gotten older, I've noticed that dark spots and scarring from blemishes take a longer time to disappear. When I was younger, I would slather on the latest trendy ingredient or even do nothing at all and my skin issue would disappear! But that doesn't happen anymore, so I had to adapt. Now when I turn to skincare treatments, I keep track of what products work for me to address these lingering skin concerns. My favorite one-two punch with tackling uneven skin tone and dark spots is the Defend Skin Shielding Essence with Niacinamide & Carob and the Defend Skin Restoring Serum with Carrot Seed Oil & Rooibos Red Tea. I adapt my daily routine to use both of these products to help turn back the clock on skin damage AND most importantly, I stick with both of them for a full month. Niacinamide & Carob help visibly brighten the skin, even out skin tone and help improve the look of uneven skin pigmentation. Following up these antioxidant powerhouses with even more antioxidant activity in Carrot Seed Oil & Rooibos Red Tea, my skin barrier is fortified, and my glow is restored.
ADJUST & ADAPT
Nuria was created to combine the best of long-lasting, time-tested skin care rituals with the best of modern science. Part of this goal was to also create products that are compatible with changing skin and fluctuating skin concerns. By knowing where you are on your skin journey and learning how to track your skin changes, you can find a Nuria product that meets your skin needs in any of our collections.
About the author, Jasmin Figueroa
Jasmin is an accomplished formulation scientist and skin health expert who has spent her career listening to consumers and developing products that rock. A founding member of the Nuria community, she loves traveling with her family, chilling with her friends at the beach, and will totally judge you if you don't wear SPF.