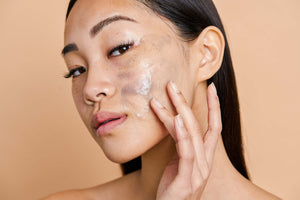 Slugging
Sometimes a tried and true beauty secret makes a resurgence, like when old-school-cool fashions like leg warmers and neon colors made a comeback (can you tell we love the 80's?). Slugging is the latest skin care trend, first gaining popularity in Korean K-Beauty circles, and then making its way to Reddit and TikTok. But don't be fooled, this beauty secret has been around for generations! When your grandmother reached for that tin of cream or your mom grabbed the Vaseline, they were the pioneers of slugging.
What is slugging?
Slugging is the practice of applying an occlusive layer to your skin to aid in hydration. Put simply, the three steps of slugging are slathering on a petrolatum-based product like Vaseline, leaving it on overnight, and waking up with plump, super hydrated skin. Easy, right?
Slugging has been a staple of the Black beauty routine for generations to get that coveted glow, and occlusive treatments have long been critical steps in the treatment of skin conditions like eczema and psoriasis to give the skin time to repair.
So how does slugging work? Applying an overnight treatment helps create a barrier on the skin, preventing water loss, sealing in moisture, and giving the skin time to go through a natural recovery process. The results are immediate and amazing – your skin will look and feel softer, more hydrated, and plumper. The best part? You can slug your entire face, or just a patch that needs extra care. Lips and the delicate eye area are great places to slug because they often need that extra dose of moisture.
Is slugging right for me?
Slugging has skin benefits for people with a variety of skin needs.
Most obvious, slugging is the right choice if you struggle with dry, flaky, patchy skin. You can slug your entire face, or just the patches that need the most care.
Slugging is also great for people who have skin dullness from over exposure to the sun, pollution, and other skin stressors – you will see results even after a single night!
And finally, let's not forget skin that tends to be oily or acne-prone – slugging can absolutely help with oil control or frequent break outs by strengthening the skin barrier. However, one important word of caution: you want to be sure to pick a product that won't clog your pores or irritate your already inflamed skin. In addition, some people with break outs choose to slug in patches rather than cover the full face, avoiding spots where acne pops up most frequently.
What should I use for slugging?
While a straightforward petrolatum product like Vaseline will work, there are several ways to amp up your results. 
Try applying a serum before you slug (under the occlusive layer) to hold the potent treatment against your skin overnight to see greater benefits.
A great way to level up the benefits of slugging is to choose a slugging product with extras. The Nuria Revitalizing Jelly Night Treatment is a great choice because this super hydrating jelly is packed with vitamin-rich Bilberry, repairing Gardenia, and hydrating Safflower and Glycerin for a plump, touchable softness. And the jelly won't clog your pores or leave your skin feeling greasy, so it's a great solution for even oily or acne-prone skin. Save your pillowcases and try it the Nuria jelly way!
Trust this currently trending, old-school-cool beauty ritual for soft, hydrated skin!
About the author, Naomi Furgiuele
Naomi is the founder of Nuria and a self-professed nerd with a love for all things science and skin care. She's had a hand in product development for some of the biggest global beauty brands in the business, gets some of her best ideas while out on a run, and loves her exfoliator almost as much as her awesome family.