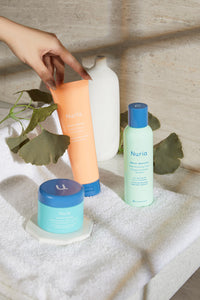 Skinimalism 101
With the rise of no-makeup selfies on Instagram, everyone wants to ace that natural, fresh-faced glow. So it's no surprise that in pursuit of this trend, people are upping their skincare game. But unlike what you may think, the key to getting that soft, pampered radiance isn't a matter of using more products--it's about using less! That's the beauty of Skinimalism. It's a minimalist approach to skin care that focuses on natural ingredients and, fortunately for us, fewer steps.
Skinimalism in a nutshell
If you've heard of the Korean 10 step beauty routine, consider this guide the mini version. Not only will it save you time but it's much less diva-ish! Inspired by the integrity of "quality over quantity," Skinimalism focuses on using higher quality formulas with natural ingredients, while skipping any gimmicky treatments you don't need.
Skinimalism is not only easier on your budget but also helps clean up your messy bathroom counter! Aside from these logistical perks, the most important part of this skincare system is that you can trim your efforts down to the bare essentials, like pore cleansing to exfoliating, which are best for maintaining your skin health long term. A simpler routine means you're more likely to stick to it, and we all know that the best skincare routine is the one that you follow every day!
Do I need it?
Skinimalism isn't a trend – it's a lifestyle choice. It's about being willing to splurge on better but fewer natural treatments, instead of hoarding a huge backlog of cheap products that have questionable effectiveness.
This approach to skin care might not be ideal for the beauty-experimentalist type who likes trying new trends and switching brands. Yet for someone who prefers to settle down with a reliable system for consistent and long-term results, you'll definitely want to say "I do" to Skinimalism.
The 5 steps of Skinimalism
Cutting away the "extras" is easy when you have your mini checklist. Here are the 5 essential steps in a Skinimalist routine.
Makeup remover
Makeup remover is one of the most underrated steps in skincare. Little do people know, it does so much more than just removing your makeup -- it can double as a toner or pore refresher.
Instead of starting your routine with a cleanser, you should be using makeup remover to detox away any dirt, oil, or germs (allergens, pollutants, etc.). By using it as a pre-wash step, your face will be properly toned and primed before cleansing. In fact, skipping this step could be the reason you've had acne, even though you wash your face twice a day. Most often, cleansing on its own is not enough.
Unlike the generic versions, natural makeup remover won't dry out your skin – the Nuria formula contains gentle purifying agents like aloe juice or lavender extract, which gently dissolve grease and scum.
Botanical cleanser
Do you wash your face twice daily? Hopefully! From AM to PM, our face sees tons of icky things, from bacteria to environmental toxins, all which create a collection of grossness that leads to breakouts.
With a natural, gentle cleanser, you can target these pore invaders without overworking your skin. Make sure to choose a formula that's compatible with your skin needs. For example, if you've got sensitive or reactive skin, a milk treatment will contain hydrating botanicals that are more soothing. Yet, if you've got dull or flakey skin, then you might opt for a duo cleanser that doubles as an exfoliator.
Facial masks
Going pore-deep, facial masks are a more intensive detox treatment. But since they tend to contain stronger active ingredients, you can't use them every day, especially if you've got sensitive skin. Stick to a schedule of using them only 3-4 times a week, letting you extract the benefits without stressing your skin.
The Biocellulose Sheet Mask is becoming a rising favorite in the natural skincare community. It contains a unique combination of Nata de Coco, Antioxidants, and natural Hyaluronic Acid-- the ultimate trio of actives that re-energize and invigorate the skin for a firmer, plumper look.
Soothing moisturizer
Here's a winning formula: moisture + SPF equals the ultimate aging defense system! On a daily basis, our skin is constantly exposed to both dehydrating free radicals and UV rays, which as we all know, contribute to wrinkles, pigmentation, and skin laxity (looseness or sagging).
To prevent these effects, your Skinimalism routine must include a natural moisturizer with SPF. Not only does it guard your face against the aging effects of sunlight, but it also nourishes your skin with healing antioxidants like Vitamins C and E. Over time, your complexion will get brighter and healthier looking!
Eye cream
As the final step to your Skinimalism routine, you need eye cream. Of all the spots on our face that show signs of aging, the skin around our eyes is actually the most vulnerable! Since this area contains fewer oil glands and is super sensitive, it's more prone to developing fine lines.
For this reason, a natural eye cream is a must-have for maintaining a well-rested look. The Defend Triple Action Eye Cream is infused with lots of goodies: cooling Cucumber to reduce under-eye puffiness, Mulberry to help brighten dark circles, and Ginseng to minimize the appearance of fine lines and wrinkles. Goodbye raccoon eyes, hello beautiful!
For anyone who's ever wondered how to get that makeup-free look, now you have the secret: it's not about the makeup – it's about the skin care. By investing in formulas with high-quality natural ingredients, you can intensify your results while using fewer products on your face. That's why Skinimalism is a lifestyle; just like going gluten-free or vegan, it's a part of making those small, healthy choices which make all the difference.
About the author, Naomi Furgiuele
Naomi is the founder of Nuria and a self-professed nerd with a love for all things science and skin care. She's had a hand in product development for some of the biggest global beauty brands in the business, gets some of her best ideas while out on a run, and loves her exfoliator almost as much as her awesome family.