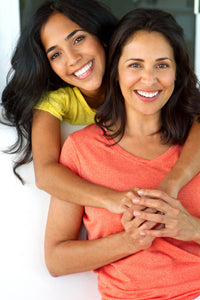 Latin America Skincare Secrets
Cleopatra bathed in sour milk, Kate Middleton fancies bee venom facials, and Rihanna's got Barbados cherries under her beauty umbrella. Whether we're taking our lessons from Ancient Egypt, Jolly Old London, or the Caribbean, one thing's clear: cosmetics are cross-cultural! In recognition of this diversity, let's expand our awareness about skincare secrets from other cultures. We're adding to our beauty education with some wisdom from a region known for their profoundly natural approach to looking ageless: Latin America!
Skin Care in Latin America
Even in the most UV-concentrated climates in South America, it seems like the women are barely-touched by the aging effects of the sun! However, unlike Western attitudes toward skin care, Latin women are, for the most part, all natural. Cosmetic treatments like Botox, dermal fillers, thread lifts, or lasers are not as normalized in their beauty repertoire. For them, a "routine" visit to your injector's office isn't as casual as buying groceries—nor would they ever call it a "Lunch Break Procedure!"
In Latin countries, natural living is the core of their culture. As the most biodiverse region on the planet– with 40% from the Amazon rainforest–the land offers some of the most nutrient-dense herbs in the world which grow untainted by air pollutants. Embracing the purity of these ingredients is the heart of South American skin care. Hispanics love creating homemade concoctions with these natural sources of antioxidants and fatty acids--the key to their healthy, moisture-rich skin.
Latin skincare traditions
When it comes to homemade skin treatments, the motto "shake what ya momma gave ya" brings on a whole new meaning! Learning to mix herbal extracts is often part of a Latin family tradition. Through each generation, you'll pass on your anti-aging routines, always using just a few organic ingredients to treat specific skin needs.
Calming herbal layering
Unlike acid layering, which is favored in the West, skin care in South America uses a more delicate method that focuses less on exfoliation and more on replenishment and moisture-balancing. Colombians, for instance, love using honey, calendula oil, and rosewater, and will layer these calming ingredients in order of density. So lightweight liquids such as rosewater would work as a toner, thicker oily botanicals could serve as a serum, and heavy textures like honey may function as a moisturizer, mask, or spot treatment.
Avena Sativa is another layerable extract, grown in the most forest-lush parts of South America's indigenous regions. In combination with rosewater, this amazing herbal mixture blankets the skin in anti-inflammatory nutrients and hydrating minerals for a fresh radiance. Inspired by this tradition, the Calm Facial Mist combines avena sativa (oat) and rosewater, along with other natural antioxidants, to pamper and soften the skin wherever you go.
Homemade skin care
Latin skincare traditions are learned within the family. According to entrepreneur and public figure Anita Campagna, "There isn't that much of a facial culture like we see here in the States." Her great aunt believed in a "less is more" approach to beauty, relying on straight-from-the-earth ingredients only.
Jamé Jackson's Haitian parents, for instance, have always valued a minimalist outlook on skin care. "My dad figured everything could be solved with aloe vera, black castor oil, or apple cider vinegar," she says. Now Jackson regularly applies aloe vera gel; but since most people don't have these plants at home, you can opt for a Refreshing Micellar Water. This solution contains aloe vera and other ingredients native to South America, working to soothe and hydrate the skin while also removing makeup.
Latina CEO and philanthropist Carolyn Aronson says her birth mom exposed her to natural Puerto Rican skin routines. "I got to hear my mother talking about how she uses coconut oil under her eyes," she reveals. Another application method for coconut oil could be the Biocellulose Under Eye Masks, which infuse the ingredient into your skin without the mess of scooping it straight from the jar.
Gentle brightening botanicals
We don't need pharmaceutical-grade chemicals to fade pigmentation or brighten our complexion. Buffy Hernandez says in Belize, all her aunties had soft skin because they were always moisturizing. "One used apple cider vinegar to tighten and remove dark spots and blemishes and breakouts. And coconut oil," she says.
Sunflower is another go-to ingredient, often used in Brazil. Naturally filled with nourishing Vitamins A, D & E, it's primarily made of linoleic acid—an excellent skin lightener! The Calm Daily Moisturizer is rich with sunflower oil, along with shea butter and cocoa, to help enliven your skin tone and ignite that healthy sheen.
Minimalist skin care: 3 steps
Having beautiful skin doesn't have to be a high-maintenance job. Latin people will never apply layer-after-layer of product on their face. Instead, they'll keep it minimal, most often following a routine involving only three steps.
Even Jennifer Lopez sticks to a minimalist routine, true to her Puerto Rican roots. As JLo's facialist Louis Deschamps reveals, "She does not do a million things to her face. She keeps a very, very healthy lifestyle and uses products at home and that's all." The singer also exercises regularly, drinks plenty of water, and gets lots of quality sleep wherever possible. And no matter what, JLo never goes to bed without removing her makeup.
To embrace this purist approach to skin care, the Gentle & Mighty 3 Step Ritual provides a holistic routine that re-balances and revitalizes your skin. Crafted with South American ingredients, these precious bare-essential steps—cleanse, moisturize, and refresh—help naturally delay signs of aging.
We shouldn't have to "try hard" with our skin. The whole allure of South America's vision of carefree cosmetics is that we can look vibrant and healthy without excessive effort! Unlike the Western mindset, which is often obsessed with trying to look better or younger, people in Latin America are focused on maintaining their natural beauty in a way that's organic and intuitive.
About the author, Rachel Esco
Rachel Esco is freelance beauty copywriter based in Toronto, specializing in conscious cosmetics and natural skincare. Over her career, she's collaborated on projects for leading global brands in skin care, hair care, makeup & nails. If stranded alone on a deserted island, she'd be content with the following two items: SPF and Netflix.