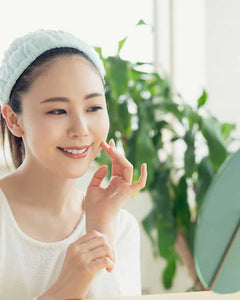 The Philosophy of Korean Beauty
You've probably heard of the term K-beauty, but you might be wondering what it means? Does the "K" stand for knowledgeable? Knockout? Kardashian? The answer to all of these questions is no. K-Beauty means Korean Beauty.
While K-Beauty often refers to products that were made in Korea, the term can also be used to describe to the beauty wisdom and philosophy behind Korean beauty products.
The K-Beauty Philosophy
Overall, K-Beauty is about creating healthier skin in the long-term vs. achieving quick, overnight results you can sometimes get with ingredients or products that can actually damage the skin barrier.
Often inspired from nature, Korean beauty products tend to emphasize nurturing your skin for the results you want over time. Similar to how one might approach a healthful diet or getting in better physical shape, the focus on long-term results is more healthful and better for you than a short-term fix.
Creating a truly healthier skin barrier is why you get that lit-from-within glow fro which K-Beauty is famous.
The K-Beauty Look
Two of the more famous looks associated with K-Beauty are "honey skin" and "glass skin." "Honey skin" is used to describe skin that looks nourished and plump. It's super hydrated and bouncy. "Glass skin" is used to describe skin's radiance and texture. It looks smooth, glowing, and luminous.
The good news is that you don't have to pick one or the other. With a consistent routine, you can achieve both.
Customizing Your Routine Based on What Your Skin Needs
While the 10-step routine helped make K-Beauty famous, the reality is that an effective routine doesn't have to be 10 steps. It can be as few as five or as many as 15, depending on what your skin needs and how much time you want to dedicate to your skincare effort.
The key to achieving glass or honey skin is consistently tending to your skin every day and not skipping important steps like cleansing. Additionally, the K-Beauty philosophy allows for customized routines, depending on your unique skin needs.
At Nuria, we share this belief that your skincare routine should focus on what your skin needs to be healthy instead of conforming to a specific skin type. It's one of the reasons that we like the wisdom and philosophy behind K-Beauty.
In fact, we encourage you to break free of skin types so you can listen to your skin's needs and adapt your skincare routine accordingly. How do you do this? By paying attention to the ingredients in your skincare products and noticing how your skin responds to the products you use.
Those Famous K-Beauty Routine Steps
The traditional K-beauty routine involves layering skincare across multiple steps. Each step plays a different role in cleansing, clarifying, toning and moisturizing skin to get to an optimal level of dewiness.
Here are the steps most commonly associated with a K-Beauty routine. Keep in mind that some of these steps are for your night routine (removing make-up) and some are for your day routine (adding sunscreen).
The great news is that you can adjust the steps to match your skin needs and lifestyle. In a hurry? Then perhaps you can skip the serum step and just use an essence for the day. If your skin is feeling extra dehydrated, you can do a face mask and then follow with an eye mask to give it some extra love.
Ultimately, your skincare routine should be adapted to meet your skin's unique needs and lifestyle. Feel empowered to mix and match the steps to each your skin goals. That's another secret to great skin.
Should You Adopt a K-Beauty Routine?
Whether you adopt a K-beauty routine or not depends on your skin goals and your lifestyle. The wisdom and philosophy behind K-Beauty favors dewy and brighter (meaning glowing) skin. For many, that means skin that look and feels healthy, which is an important part of self-care. We can't argue with that.
About the author, Naomi Furgiuele
Naomi is the founder of Nuria and a self-professed nerd with a love for all things science and skin care. She's had a hand in product development for some of the biggest global beauty brands in the business, gets some of her best ideas while out on a run, and loves her exfoliator almost as much as her awesome family.