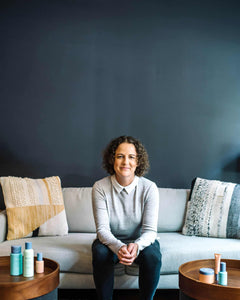 The Inspiration Behind the Nuria Brand
For nearly two decades I led product development and scientific teams for some of the world's biggest global brands. I loved creating products to improve skin health, but even more than that, I loved the people I met along the way.
I met women all over the world on their own skin health journeys who were proud to share their secret routines and rituals to address their needs – from rough skin from Europe's cold climates to dullness from environmental stressors in Asia. Many had turned to local, plant-based ingredients to create their own customized solutions. I was inspired by these women and their ability to care for themselves.
One of the women I met was investing everything she had in her only child, a daughter. She and her husband were beaming about the education they were working so hard to give their daughter. It spoke to me as a mother of two daughters who understands that education is the key to so many things — health and wealth most of all.
Nuria was born from these experiences, and we are committed to be a catalyst for change for women worldwide. Every time Nuria is shared and a product is sold, a girl in a low-income country is closer to becoming the first in her family to graduate high school.
I hope you'll join me on this adventure.
Naomi
About the author, Naomi Furgiuele
Naomi is the founder of Nuria and a self-professed nerd with a love for all things science and skin care. She's had a hand in product development for some of the biggest global beauty brands in the business, gets some of her best ideas while out on a run, and loves her exfoliator almost as much as her awesome family.