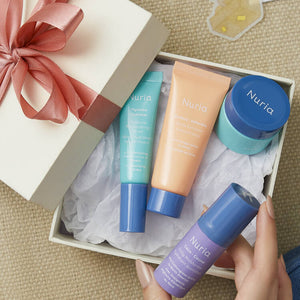 Holiday Gift Guide for 2022
Every year, holiday season approaches and we tell ourselves, "This is the year! This is the year I'll get all of my gift shopping out of the way early." Well… we might not get everyone on the list checked off, but Nuria wants to make it as easy as possible for you with our holiday gift guide for 2022.
For the friend who promises they'll start a skincare routine… for real this time
Try gifting our Defend Matte Finish Daily Moisturizer with All-Mineral SPF 30. Sunscreen is without a doubt the most important part of anyone's skincare routine, even the ones that don't exist. So you don't overwhelm them or scare them away with a multi-step ritual, grab this one product to moisturize, protect, and keep skin looking youthful. It makes the best introductory present!
For the friend that makes everyone come over to watch the latest episode or nostalgic movie… because it doesn't count if you don't watch it together
Group skincare would be your best option and masks are here to join the watch party! Throw on an episode of House of the Dragon or watch Hocus Pocus 2 for the third time and get your hydration on. Our Hydrate Nourishing Under-Eye Masks and Hydrate Replenishing Biocellulose Sheet Mask Set are sold as sets of five to make sure everyone can feel pampered with nourished, glowing skin.
For the friend with the picture-perfect, color-coded home…or Instagram feed
We might be a tad biased, but our packaging is next level adorable. The soft purple, blue, orange, and green hues look amazing in every bathroom. Check out these kits for beautiful aesthetics and even more beautiful, healthy, glowing skin:
For absolutely anyone on your list…seriously
Who doesn't like unwrapping presents?! A countdown calendar is the best way to incorporate all of the surprise fun that comes with the holidays. Seven days of skincare essentials for them and $20 in savings for you with our Get Glowing Holiday Calendar.
Happy gifting!
About the author, Jasmin Figueroa
Jasmin is an accomplished formulation scientist and skin health expert who has spent her career listening to consumers and developing products that rock. A founding member of the Nuria community, she loves traveling with her family, chilling with her friends at the beach, and will totally judge you if you don't wear SPF.