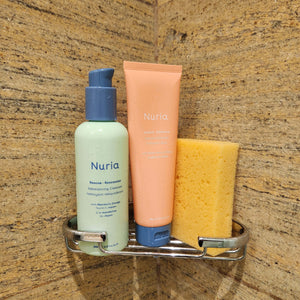 Everything Shower & Your Skincare
Love hogging the shower? GOOD! Now you've got the best reason ever to linger in the bathroom: it's called the EVERYTHING shower. This super satisfying, super spoiling routine unites all our cleansing and grooming rituals in one luxury treatment. Currently among our favorite skincare trends on TikTok, our team here at Nuria felt it deserves a special shout-out.
To help you learn the ropes of this shower extravaganza, we gathered insider tips on how to approach each step. So slip into your snuggly robe, grab a towel, and let the pampering begin!
Pre-shower tips
Our best-shower-ever requires some pre-game effort. Just like marinating food before you cook it, our skin needs to be "tenderized" before soaping up, scrubbing down, and shaving away.
Lube up
If we suffer from itchy, scaly skin after a shower, it's because we leached away moisture during our cleansing and exfoliating process. To skirt these side effects, we should lubricate our body prior to soaking up suds, suggests the journal of  Clinical and Experimental Dermatology. In a study comparing the effects of oil baths on the skin, the report revealed that oil "increases skin-surface lipids lasting at least 3 hours, comparable to the effect of traditional moisturizing lotions."
So, applying a body oil (whatever kind meets our fancy…olive or coconut, etc.) creates a protective barrier around our skin, helping it retain moisture long after our shower.
Brush down
Next up, there's dry brushing: a body exfoliation technique using a handheld paddle with bristles—sort of like an oversized toothbrush! According to board-certified dermatologist Dr. Lily Talakoub, "rubbing the bristles against your skin loosens and removes dead skin cells and makes your body feel smoother and more supple."
There's also the added bonus of lymphatic drainage—a natural detox treatment that encourages fluid buildup to leave the body.
Skincare tips during your shower
Now for the fun part: shower time! And how we do it is key—each step in this ritual should follow a specific order. Similar to how we layer our facial skincare products, our Everything Shower should also be strategic to reap the benefits of this spa-like experience!
We will follow four basic steps: shampoo, facial cleanse, exfoliate (yes, again), and shave.
Hair & body cleansing
Always shampoo and condition first! "It's important that you don't wash your face or the skin on your body before completing your hair-wash routine," says Dr. Lindsey Zubritsky, a board-certified dermatologist in Pittsburgh. Otherwise, she says residue from our hair products can seep into our pores, leading to acne. 
At this stage, after conditioning, we may start any specialized hair treatments like repair masks or scalp serums.
Full-body exfoliation
Next, it's time to buff away the dead skin cells from our body. Since we did a dry-brush sesh earlier, we've already loosened our old skin flakies—so now we use a chemical exfoliant to finish the job!
Louise Deschamps, facialist to stars like J.Lo and Harry Styles, always recommends this step. She suggests using a formula with "fruit enzymes that bring oxygen to your skin." The natural acidity in vegan products like the Defend Gentle Exfoliator, for instance, have gentle exfoliants like Ginkgo and Lactic Acid, which may be used for both face and body!
Exfoliating adds radiance! Once we remove the dull, ashy skin cells, our body will look more illuminated and feel cloud-soft. Plus, our skin will breathe better, meaning higher oxygen levels to promote a more fleshy, healthy look.
A smooth shave
Ever catch a gross, hairy hodgepodge of dead skin in your razor? Ya gross, and that's why we exfoliate twice before shaving.
Many of us assume a foamy lather works as a lubricant for gliding the razor glide along our skin, but dermatology resident Dr. Taylor Bullock says soap is a no-go. The problem is its astringent effect (it's moisture-sucking). Instead, try body oil—it protects our skin against the abrasive razor action, while cushioning our stubble for a smoother glide!
After-shower skin care tips
Now we're at the homestretch of our Everything Shower! This stage is about locking-in our handiwork, so we get the best quality results that last.
Moisturize 
No matter how soft we feel post-shower, we should still moisturize (even if we oiled-up during the prep stage). Here's why: thanks to evaporation—when air attracts moisture—once we towel off, our bodies lose its natural conditioning oils. So, before leaving our haven of humidity (our bathroom), we should apply a nourishing moisturizer that seals in all of that healthy hydration, like the Revitalizing Jelly Night Treatment for your face and your body. Applying moisturizers to damp skin is the way to go, so make sure you don't towel off all of that water before sealing in that extra hydration layer. 
This step creates a protective coating, preventing the atmosphere from drying out our natural oils, explains New York City-based, board-certified dermatologist Michelle Henry. "Moisturizing after a long shower is important because it helps to maintain the skin's moisture balance, keeping it softer and more supple," she says.
Hair drying & the microfiber towel
If we're aiming for the shower goddess cliché, we probably plan on crowing ourselves with a swan-wrapped towel. But as much as we love this vibe, letting our hair air-dry actually leaches away moisture!
Also, regular towels create friction on wet hair and can actually worsen breakage, explains hairstylist Virginie Pineda. She recommends drying our hair in a microfiber towel instead; it has smoother fibers that protect our tresses from dryness and damage.
Under eye mask & jade roller
Finally, we end with our editor's favorite combo: the under eye mask and jade roller! This soothing anti-aging treatment infuses the delicate area under the eyes with moisture and vitamins, while helping improve circulation for a toning and lifting effect.
Nuria's Hydrate Nourishing Under-Eye Masks are designed to work with a jade roller or solo! They're loaded with antioxidants, like Nata de Coco and Rosebay Willowherb, to reduce dark circles and puffiness. While the patches soak on our skin, we can gently glide the jade roller in outward sweeping motions, starting from our nose, which activates the lymph drainage process and enhances our glow.
Beauty reasons aside, the Everything Shower is more than a cleansing ritual — it's a wellness choice. Taking time from our busy schedules to savor that oh-so-necessary "me time" is one of the simplest ways to show your body some love.
About the author, Jasmin Figueroa
Jasmin is an accomplished formulation scientist and skin health expert who has spent her career listening to consumers and developing products that rock. A founding member of the Nuria community, she loves traveling with her family, chilling with her friends at the beach, and will totally judge you if you don't wear SPF.