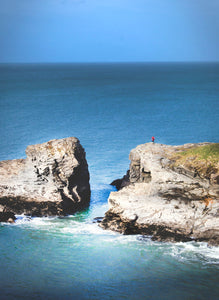 Caring for People & the Planet
Nuria is a celebration of the global collaboration between women, nature, and science. From the outset, we committed to uplift other women and protect the environment by devoting a portion of our sales to good causes. At the core of the Nuria philosophy is a giving program that supports those causes closest to our hearts. Bowing to Mother Nature, we support the non-profit organization Cool Effect, committed to reducing carbon pollution and curbing climate change, and, respecting female educational rights, we support She's the First. Here's how we're doing our part for people and planet!
Uplifting women
Nuria is a women-founded organization, so it's important to us to uplift other women along the way. We view Nuria as a global beauty collaboration, using age-old wisdom passed from one woman to another. We do this by studying the earth's most cherished ingredients and rituals, blending generational knowledge and the best of modern science. We formulate clean, natural skincare products that help women look and feel healthy and beautiful. A portion of every Nuria skincare sale helps girls access education through a community program called She's the First.
Nuria and She's The First
We believe that every girl deserves access to education, so we chose She's the First (STF) because they listen to what girls need. They sponsor girls worldwide who are the first in their family to finish high school, providing them with financial assistance and community support. Once a girl is given an education, she experiences independence and growth, and that growth is with her for life. When a girl graduates high school, she is more likely to have fewer, healthier children, delay marriage, and make 20% more per year of schooling. If all girls went to school for 12 years, low- and middle-income countries could add more than $92 billion per year to their economies. What an amazing world that would be!
Each year, She's the First reaches more than 138,000 girls across 26 countries, through their work dedicated to strengthening ecosystems and advocating for girls' rights. Wholly aligning with this vision, we use a portion of every Nuria skincare sale to help this cause.
Here's what we've achieved so far:
Nuria's first-year commitment to STF was equal to a minimum of 2,000 months of schooling for girls worldwide.

Six-figure commitments to STF in the first 2 years of the brand's existence with an ongoing, meaningful partnership for the years to come.

A portion of all Nuria proceeds goes to STF, and we offer customers the opportunity to add a donation at check out (donations go to STF in full and we count that donation towards the customer's free shipping minimum).

Every year the proceeds from all our holiday gift sets are donated to STF.
We are a little brand among some big sponsors, but in our first year, we were one of their largest donors! And we are inspired by the additional support that our community shows to this great cause.
Putting a pause on climate change
As global citizens, we share in the responsibility for the people and places that share their beauty rituals with us, so our mission of giving back also includes caring for the environment. Understanding that it all starts with us, we wanted to do our part to press the pause button on the damaging effects of climate change.
Our commitment to carbon neutrality
Educating ourselves on what it means to be carbon neutral, we committed to offsetting the carbon footprint of every product over its entire lifecycle, from raw material extraction and manufacturing through product use and recycling. We have even offset the carbon emissions of our office and home offices! Nuria partnered with Cool Effect, a non-profit organization, to purchase carbon offsets by investing in global projects that help reduce carbon pollution. One of the many projects we have supported includes investment in clean cookstoves for schoolchildren in Malawi. These projects have made Nuria a carbon neutral brand.
Other ways we protect the planet
At Nuria, we ensure that our products and ingredients are held to the highest safety standards and good manufacturing practices. We only source from partners who share our commitment and care for people and the environment. In addition, Nuria packaging is recyclable, and our paperboard and cardboard are made using renewable energy. And last but definitely not least, our brand mission of supporting girls' and women's education also contributes to Nuria's sustainability! Project Drawdown®, a non-profit organization committed to helping the world reduce greenhouse gas emissions, published a 2017 study on the best ways to combat climate change. They found that educating women and girls ranked higher than plastics recycling and electric cars!
How can you reduce your carbon footprint?
Up to 50% of a product's carbon footprint happens during its use. While we have covered those emissions for you, you can affect climate change by making a few simple changes to your skincare routine:
Use cooler water when washing your face

Use natural and vegan products

Use every drop of a product

Look for clean energy providers in your area

Recycle
Together we can make a difference!
About the author, Naomi Furgiuele
Naomi is the founder of Nuria and a self-professed nerd with a love for all things science and skin care. She's had a hand in product development for some of the biggest global beauty brands in the business, gets some of her best ideas while out on a run, and loves her exfoliator almost as much as her awesome family.