Revive dry skin with this set inspired by beauty rituals across Europe for skin that is hydrated, soft, and glowing all day long. This easy, skin-quenching Nuria routine will refresh the look of even the thirstiest skin.
Includes:
Refreshing Micellar Water: 200 mL / 6.8 fl liq oz US
Moisturizing Toner: 180 mL / 6.1 fl liq oz US
Moisture Replenishing Serum: 25 mL / 0.8 fl liq oz US
Revitalizing Night Jelly Treatment: 55 g / net wt 1.9 oz

$112 value! You save 30% by buying the set!
The Routine
Step 1: Remove dirt and make-up with the Hydrate Refreshing Micellar Water, made with Chamomile & Sage. This soap-free, no-rinse cleansing water leaves skin clean with no residue and without making it feel dry. It even removes water-resistant makeup + even stubborn mascara.
Step 2: Apply the Hydrate Moisturizing Toner to help soften + hydrate + prep rough, dry skin for the rest of your skincare routine, making it more effective. If you aren't using a toner, your routine is missing out!
Step 3: Hydrate Moisture Replenishing Serum to boost hydration + moisturize + nourish + replenish dull, dry skin. Nuria's serum philosophy is for "less-is-more" formulas with only the essential ingredients. That's why you need only 1-2 drops to get the full benefit of our serums, which might be more gel-like than other serums you have tried. Let the serum absorb completely before moving to the next step.
Step 4: Apply the Hydrate Revitalizing Jelly Night Treatment to nourish, smooth, and fortify your skin. Use it as a sleeping mask and you'll wake up with plump and dewy skin.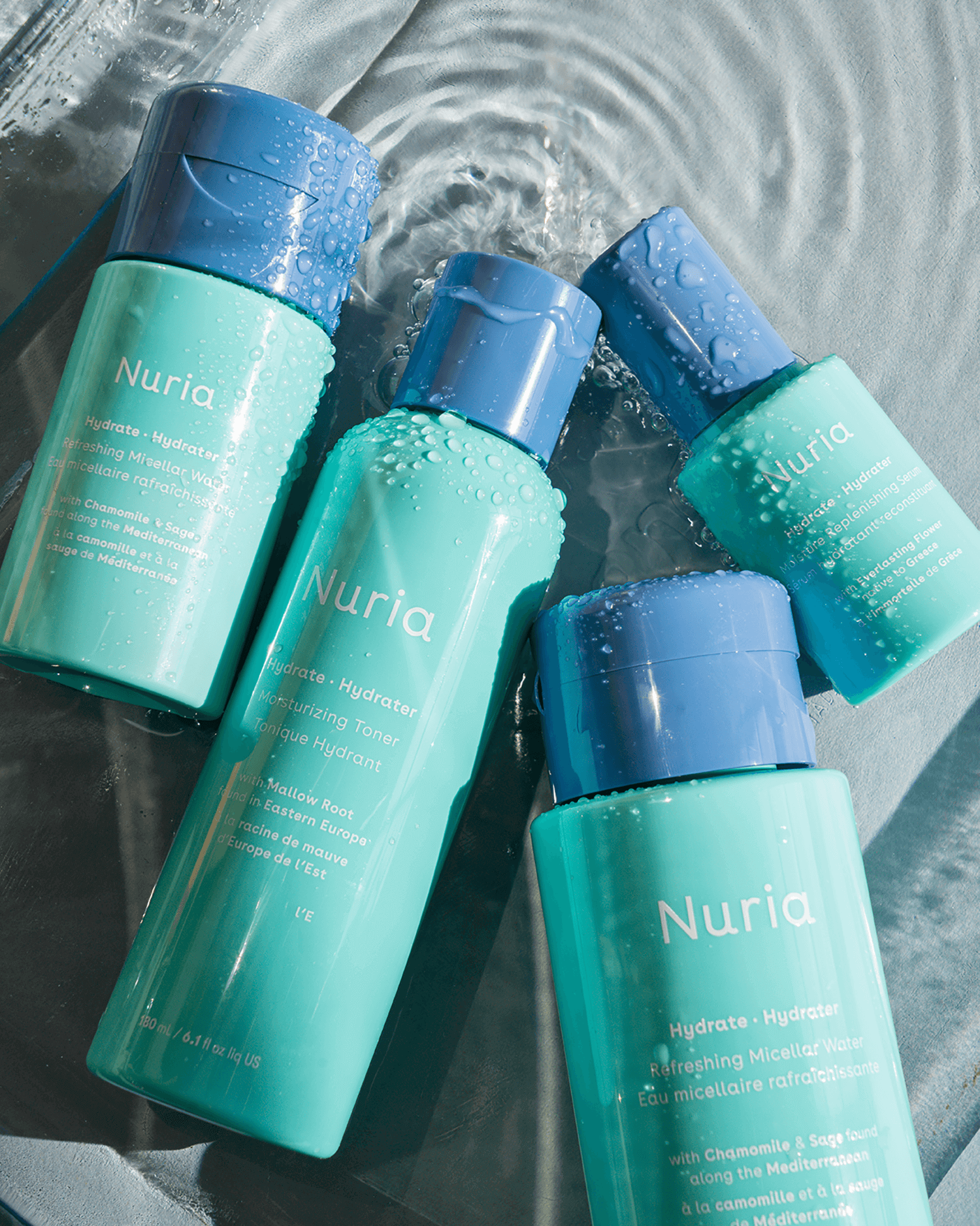 Create Your Routine
Make this Dewy Skin Set a great step in your skincare routine